The mobile hit jumps onto the Xbox 360, complete with Kinect controls.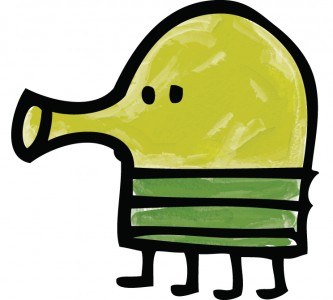 Confession: I had never played Doodle Jump prior to trying out the Kinect version of the game for this preview. I know, I know- that's crazy.
The game has only been a monster of a hit since the birth of the iPhone version back in 2009 and has gone on to sell millions of copies on mobile platforms. So to say that I'm late to the table is probably putting it lightly here. Of course there are no shortage of places to play Doodle Jump either as since its debut developer Lima Sky has ported the simple 'vertical platformer' to Android, Blackberry, Windows Phone, and now the Xbox 360 by way of Xbox Live Arcade and the Kinect sensor.
Kinect presents a completely different gameplay experience than any other of the platforms I mentioned. The basic nature of the Xbox' motion controller is that you 'put your back' (along with everything else) into your gameplay. With Doodle Jump, it actually does a neat job of translating the control scheme of the mobile (touch) interface to a home console. If played with a control pad, DJ might be way too easy, but with Kinect it becomes just as tricky as the mobile game… that's a good thing by the way.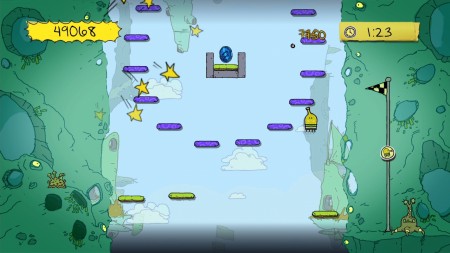 You never actually jump while playing DJ for Kinect, which is also a good thing or all the stuff would be falling off of my shelves in the living room. All you need do to play is move your body from side to side. That might not sound tricky at all, but believe me it is. There's more to it too, as you might imagine.
To shoot the games signature 'nose balls' you move your arms. You can even direct them in this way to nail the various nasties that you'll come across. And you come across quite a few of them. Appropriately enough, DJ plays a lot more like a traditional platformer on the Xbox than it does on mobiles, complete with boss encounters. Though I should mention that you'll still find the majority of what you liked from the mobile editions present here including all the power-ups. You'll just use them… differently (you're gonna be moving those arms quite a bit).
From what I played of Doodle Jump on the Kinect, I really enjoyed it and had a fun (not to mention challenging) time. Fans of the mobile game should definitely like it too as the changes Lima Sky made to it definitely work to give gamers a fuller and more complete experience than just the endless hopper that it has been. Maybe the biggest compliment I can give Doodle Jump on Kinect though is the fact that I almost immediately downloaded and played the iOS version of it after my play session was finished. And then I proceeded to play it at every spare second.
It seems like Lima Sky might just have another winner on its hands with the latest edition of Doodle Jump. We'll find out when the final version of the game lands on the Xbox 360 this Friday, June 28th.