If you've ever thought that polishing the pearly whites was dull, you might wanna check out what Evo has just launched.
Can brushing your teeth be… cool?
We all know 'good hygiene' is important, and I'm not saying it isn't. But at the same time, there's no denying that brushing your teeth is one (or two) of the day's most boring activities. And if you're anything like I am, you pretty much just count down the time til you're done. Well, hold that thought, because looking infuse a little fun into that daily activity is a company called Evo.
If that name doesn't ring a bell, don't worry, because Evo is relatively new when it comes to consumer products. That's not to say it hasn't been around though, because the manufacturer has been in operation since 2002 in the professional realm. It's just recently that it's turned its eyes to the home market, and is now producing a line of fully licensed and Marvel-branded electric toothbrushes.
Right now there's an Iron Man, as well as a Spider-Man unit out and ready for purchase, but there's one more on the way. Posted on Kickstarter as you read this, is the BLP-1. It's the most advanced model to date, and sports the imagery and colors of Marvel's Wakandan king, Black Panther.
A king's introduction
Along with the brush itself, Evo offers a special experience right from the moment you open the box. Opening one of their brushes is clearly meant to be impactful, and that is very much apparent. It all begins with some hefty and well-built, character-specific packaging.
Once you open that, the box raises a heavy-gauge inner plastic 'platform' that holds the actual toothbrush. Accompanying sound effects and lights trigger as said platform locks into place, when you drop the split-front into the fully open position. Or at least, that's the idea.
The lights didn't trigger at all on the sample that we got, and the sound effects were super quiet. I took that to be because ours was (obviously) a review piece, but I've got to mention it anyway. While it has no effect on the actual operation of the toothbrush, it is easy to see that Evo is very committed to the experience of getting one of these. And if the show doesn't work… well that's not ideal.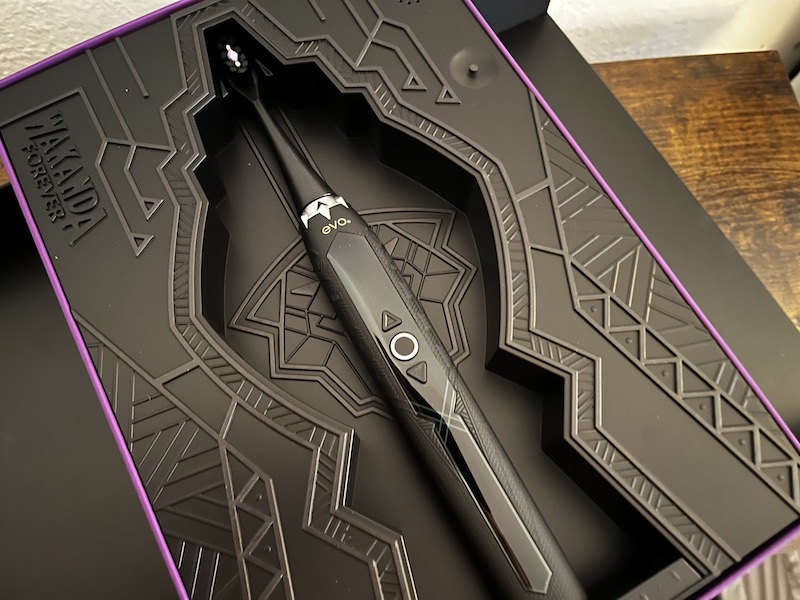 Moving on though, because under the brush's cradle is a black and purple panel, emblazoned with Black Panther art. That's made of a nice card stock and holds holds the instruction guides. Removing that then unveils the accessories, which includes a travel case, charging cradle, and more.
Yes, that's a lot for a toothbrush, but it's also really cool, and quite the nice introduction to something that you're going to be using every day. I'd imagine that if the lights and sounds were all on point, it'd really be something.
Plus if you're a big fan of the core property, it's well worth keeping that box for display on a bookshelf. It's pretty sharp all by itself and would make a slick backdrop for a general Marvel or Black Panther shelf.
From Wakanda, with love
In both the comics and the movies, the Black Panther's home nation of Wakanda is known for technological wonders. So with that in mind, it's fitting that the BLP-1 is pretty easily the most advanced brush in Evo's stable. Actually, it might be one of the most advanced brushes on the consumer market.
I can't speak with any authority on that last note, since I'm not exactly a 'toothbrush aficionado', but this little guy packs a heck of a lot under the hood. For one thing, it features five modes, which include standard, whitening, sensitive, gum care, and deep clean. Selecting one of those, followed by a press of the activation button, will set the sonics to work on your teeth.
Did I mention that you choose your mode via a front-mounted touch screen? Well, you do. The touch sensitive panel is full color, and works with a simple swipe up or down to pick a mode. Under that is the physical "activation button" I mentioned, which'll actually start brushing. There are also up and down arrow keys to select intensity, rounding out quite a suite of controls.
Though even with all of that, I want to emphasize that none of it is obtrusive whatsoever. The handle is as slim as any other electric, and has a comfortable feel and light weight to it.
That same touch panel, by the way, also greets users with a 'good morning', 'good afternoon', or 'good evening', and has multiple other options like checking your 'brush time', 'history' and more (accessible with left or right swipe). The controls completely do away with any kind of app integration as well, which I understand is somewhat common for a higher-end item.
Right underneath that panel, there's an illuminated strip that glows purple to tell you how much of a charge you have remaining. That light-up feature works its way down the handle, and eventually ends in a red light when you've really gotta charge up.
And speaking of "red light", the back of the handle has another purple glow that also can turn red. It's not for charging though, and is meant to be seen in the mirror, letting users know when they're pressing too hard on their teeth. Yeah, it even does that.
Powering up your routine
The motor that the BLP-1 uses in its operation is fairly quiet, just emitting a light buzzing sound that you're no doubt used to if you've used something like this before. I've used all of the settings at this point too, and each one does indeed serve up a different feel. But while the effects are varied, Evo says the BLP-1 produces 40,000 vibrations per minute across all of them.
No, you didn't read that wrong, the toothbrush sonically pumps out that many vibrations to its brush, for every minute you're using it. Speaking of the actual brush head too, it's also got a feature built in, in that it fades from dark gray to white over a 90 day span.
This is to remind you to change it out for a new one, which you can order direct from Evo (though it does come stocked with one spare). It's also a redundancy, since that touch panel we talked about above will also remind you.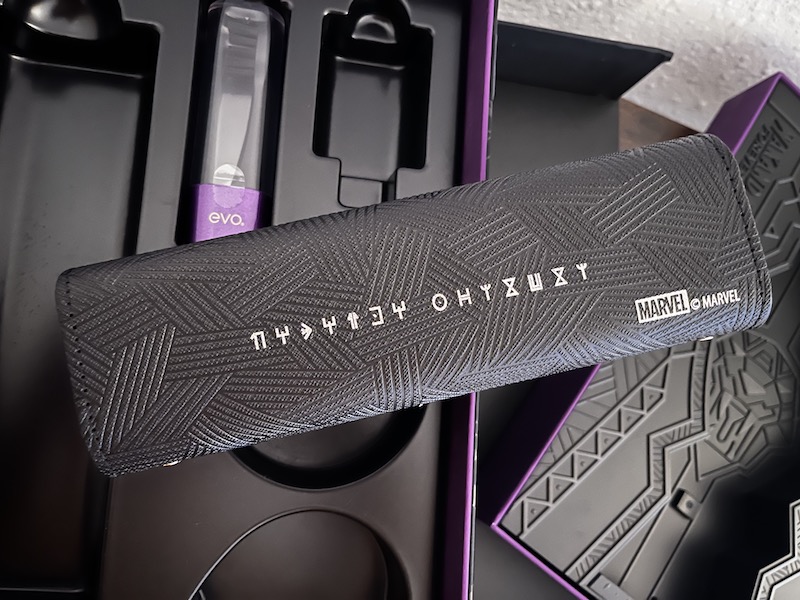 While I can't speak to long-term cleaning effects from the various modes, I can tell you I found out right away that I was pressing way to hard with my old brush. Immediately, the back-sensor lit up red, reminding me to lighten up. It did so often too, which means I was potentially damaging my gums with my old brush, and didn't even know it.
Also worth mentioning is that you can set the length of your brushing session with this new model, thanks to a built-in timer. You can set it for 1-2 minutes, after which it'll count down and subsequently power off. Apparently the average American only brushes for about 40 seconds, which is well under what's 'ideal' according to Evo, so the BLP-1 will make sure you don't skimp.
Overall
Apparently you can be impressed by a toothbrush, because I'm knocked over by the BLP-1. I've never used something from Evo before, but the upcoming Black Panther model is a wonder, packed with options and with loads of things to make the experience of using it anything but dull.
Keep in mind though, that since the unit is still up on Kickstarter, it isn't available at retail. There are a little over 20 days to go as of this writing, but you likely won't have to wait long to actually get yours once that period ends.
Providing you back at a reward level that includes one, the BLP-1 is estimated to ship next month.
A sample unit of the BLP-1 was provided by Evo for this review
BLP-1 Black Panther electric toothbrush
Release date: December 2023 (Kickstarter campaign ongoing as of now)
Manufacturer: Evo
MSRP: $150
Clean teeth forever
Form factor and design (and packaging) - 90%
Features - 100%
Proficiency - 95%
Yes, we're reviewing a toothbrush, but it's a Black Panther toothbrush from Evo, and is stocked with just as much tech as if it actually did come from Wakanda. This thing is fully-loaded, providing lots of features and delivering options aplenty for users. Plus it just looks awesome, with Black Panther designs and a slick purple glow, both in use or when actively charging.