The end is here. In the air for a while, Marvel Comics' grand "Krakoa" X-Men era is about to come crashing down.
Fall and Rise
It's not really a secret that the Krakoan age in Marvel Comics' has been divisive. From writer Johnathan Hickman, the years-long storyline took the X-Men out of their familiar roles, and also changed some of their personalities a decent amount.
In terms of general storytelling too, Krakoa also drained every last bit of drama out of… everything, since Xavier and his core team could resurrect any and all mutants who 'died'. So yeah, divisive. For those who haven't been into the Krakoa storyline, and really even for those who have, there might be a must-read X-event coming on fast with The Fall of the House of X.
This one's going to be massive, and will not only include crossover issues, but two mini-series'. Those will be Fall of the House of X and Rise of the Powers of X, and focus on a fight with classic X-foe Nimrod. The powerful mutant-hunting machine will be faced with an assault by a still unrevealed X-Men team, and both series' will have effects on not just the Krakoa tie-ins, but also seemingly result in a face turn by the now-villainous Beast. Again, this 'age' was pretty divisive.
Here are some rundowns, for what you can expect this coming February:
The mythos-shattering storytelling of FALL OF THE HOUSE OF X and RISE OF THE POWERS OF X will also impact the current X-MEN ongoing series where the team finally take the fight to the most critical threat to mutantkind, Nimrod. Special limited series like the recently announced CABLE, DEAD X-MEN, and RESURRECTION OF MAGNETO, will tell of the vital missions and epic quests spinning out of FALL OF THE HOUSE OF X and RISE OF THE POWERS OF X. And the frontlines of Krakoa's last stand are never deadlier than in the pages of X-FORCE which gears up for its milestone 50th issue and the conclusion of Krakoa with a charactering-redefining turn for X-Men icon Beast.

Marvel Comics press release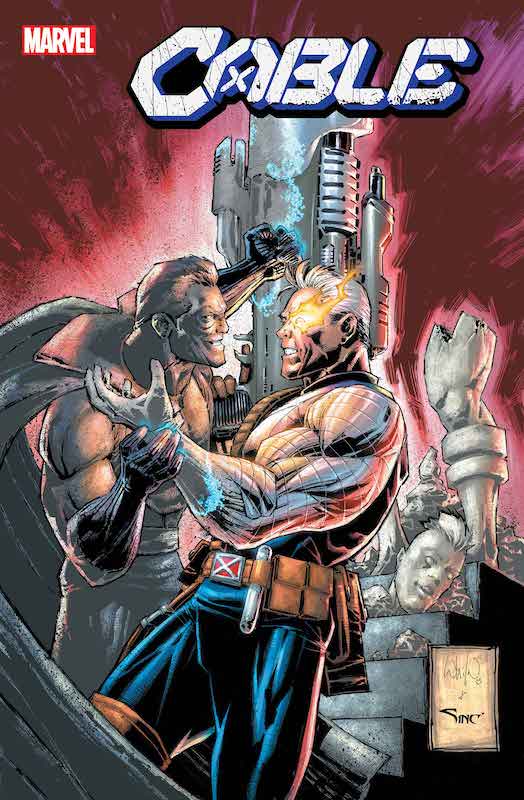 CABLE #2 (OF 4)

Written by FABIAN NICIEZA
Art by SCOT EATON
Cover by WHILCE PORTACIO
THE FUTURE MAY NOT BE SET IN STONE – BUT CABLE MIGHT BE!
Cable and his younger counterpart are racing to try to stop the rise of the Neocracy before it can take root and exterminate all life on Earth as they know it – But when their investigations sends them crashing into the Grey Gargoyle, Cable and young Nate will have to battle for their lives or risk being turned into stone!

DEAD X-MEN #2 (OF 4)

Written by STEVE FOXE
Art by PETER NGUYEN, BERNARD CHANG & GIULLERMO SANNA
Cover by LUCAS WERNECK
THE IMPOSSIBLE TEAM ON AN IMPOSSIBLE QUEST!
The Dead X-Men leap across time and space in a last-ditch effort to prevent catastrophe, but they're not the only ones breaking through the fabric of reality! As these five mutants go places no one has gone before, a cloaked figure stalks them from the shadows…and nothing will survive if she reaches her goal!

RESURRECTION OF MAGNETO #2 (OF 4)

Written by AL EWING
Art by LUCIANO VECCHIO
Cover by STEFANO CASELLI
THE KEY – THE SECRET!
In the depths, Magneto was given a key by strange forces – and impossibly, he holds it still. Now, in death, Max Eisenhardt judges his own life – and counts the cost. Should he return to the world? Can he allow Storm to bring him back? And what does the Deep Key unlock?

X-FORCE #49

Written by BENJAMIN PERCY
Art by ROBERT GILL
Cover by DANIEL ACUÑA
WONDER MAN AND BEAST – THE DYNAMIC DUO RETURNS!
In a simpler time, the bounding Beast partnered up with Avenger Wonder Man! But after Beast's fall from grace, is there any chance these two can see eye to eye? In a last desperate attempt to take down Beast, witness the return of…Beast?!

X-MEN #31

Written by GERRY DUGGAN
Art by PHIL NOTO
Cover by JOSHUA CASSARA
THE ULTIMATE MUTANT HUNTER!
The X-Men lived in fear of Nimrod's creation, and now it's clear why! The ultimate weapon of mutant extinction is ever-adapting, ever-evolving, with only one goal – DEATH TO MUTANTKIND!