Landing this week in comics stores, Geiger is set to unleash the brand new, creator owned and operated Ghost Machine label.
Ghost in the… something
Forged in conjunction with Image Comics, Ghost Machine more or less sounds like an extension of the original Image mission. The new label is loaded with talent from across the industry, and is both owned and operated by those men and women.
Not just one universe of action, Ghost Machine will be bringing four separate comic book realms to life. Each will be radically different too, with superheroes, sci-fi, and even horror all getting nods. And as mentioned, this is all from veteran artists and writers, as fans can expect work from the likes of Jason Fabok, Gary Frank, Bryan Hitch, Geoff Johns, Lamont Magee, Francis Manapul, Brad Meltzer, Peter J. Tomasi, and Maytal Zchut.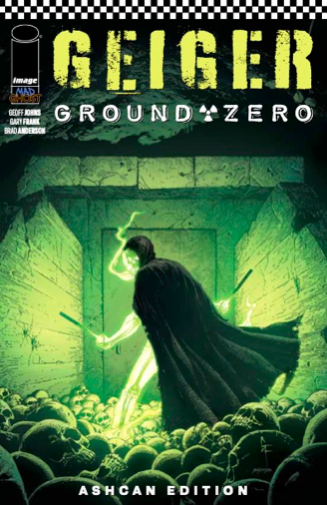 Some of those names will be introducing the very first title from Ghost Machine this very month, with Geiger. Both the first and second issues of Geoff Johns and Gary Frank's Geiger: Ground Zero will hit in before the end of the year, and it starts with a November 16th debut.
On sale November 15, GROUND ZERO #1 continues the saga of the THE UNNAMED, returning to the apocalyptic world of GEIGER to discover what happened to Tariq Geiger in the days after the nuclear bombs first dropped? How did mankind survive the UNKNOWN WAR? Who is the mysterious Russian scientist Dr. Molotov and why is he hunting Geiger? And how does this tie all the way back to the American Revolution? [See attached exclusive preview pages.]
On sale December 27, GROUND ZERO #2 picks up after the fallout of the UNKNOWN WAR, as Tariq Geiger must fight for his own survival from what's left of society…as well as find whatever humanity remains inside his nuclear-powered body. But only with the help of his sole ally, Dr. Molotov, can he gain an understanding of his powers…and ward off the hunters after him.
Loads more to come
As mentioned, Geiger is just the very tip of the spear for Ghost Machine. The label, which will be published via Image, has plenty more on tap, including January's 64 page "Ghost Machine" special. That issue will introduce some of the concepts and characters that prospective fans can look forward to seeing throughout 2024.
GEIGER: GROUND ZERO serves as a preview of Ghost Machine's impressive rollout next year: In January 2024, GHOST MACHINE #1, a 64-page special which will introduce its FOUR SHARED UNIVERSES of characters: 1) THE UNNAMED; revealing a mysterious group of genre heroes from across history, featuring characters and titles like GEIGER, JUNKYARD JOE, REDCOAT and FIRST GHOST. 2) ROOK: EXODUS; a sprawling sci-fi epic which takes place in the far future, on a world where every aspect of nature is controlled by humanity. 3) The universe of FAMILY ODYSSEYS centering around the time displaced family, THE ROCKETFELLERS, and their friends. And 4) An epic HORROR UNIVERSE co-created and illustrated by one of our secret superstar artists to be announced, currently under contract. Following Ghost Machine #1, Ghost Machine's titles will begin shipping in April 2024 with an all-new ongoing GEIGER series, REDCOAT and ROOK: EXODUS.

Ghost Machine press release