Taking the action figure world is Jada Toys. While there was nothing 'new' shown at Toy Fair, we did get a look at what's out.
Icons
One of the biggest surprises in recent years, as goes the toy industry and hobby anyway, has to be Jada Toys. Formerly known for die-cast cars and vehicles from movies, Jada has grabbed two of the biggest video game licenses in history and is currently running like heck with them. Both of those names come out of publisher Capcom, with Street Fighter II and Mega Man.
While there have been (and are) toy lines based on Street Fighter II, the legendary fighting game hasn't had a mass market one in a long, long time. We can't even remember what the last one was, but it was years ago, and wasn't nearly as promising as what Jada is pumping out right now.
The company has legends like Ryu and Chun-Li, plus Super Street Fighter II's Fei Long out right now, and will next be sending Ken Masters to store shelves. All of them are sculpted to look like they popped right off the screen, and like some of the more expensive stuff, they come packing extra hands and portraits, and effect pieces.
Check 'em out: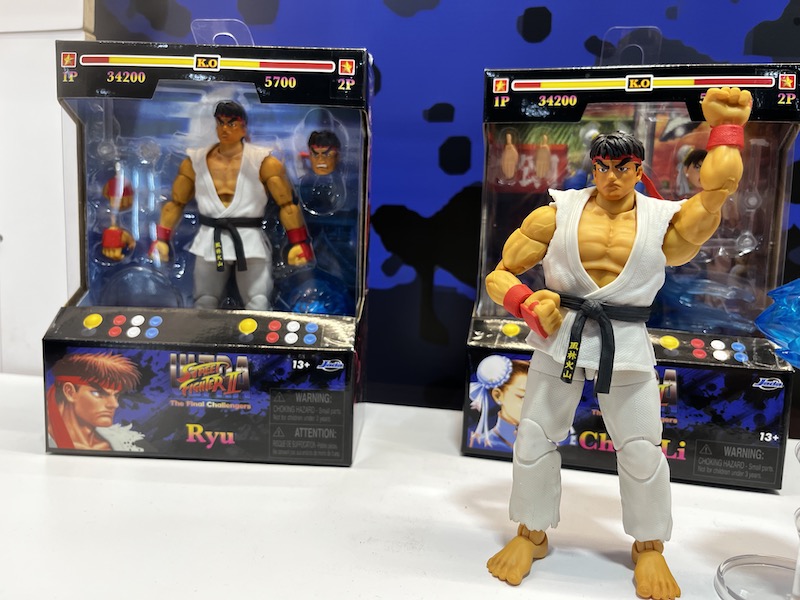 Now, you might notice that only the first three figures are pictured above. That's because Jada didn't have Ken on hand at the show, so we were only able to snap what's already out. Also worth noting though, is that you can likely expect to see the full Street Fighter II roster as the line rolls on. At least, that's Jada's intent.
So if you were waiting to make sure the line was going to go aim for completion before you bought in…
The Blue Bomber returns
Unlike Street Fighter, Capcom's premier platformer Mega Man has never had a comprehensive toy line. There've been model kits yeah, and some good ones too, but toy lines? They've been historically few, and even when one pops up it usually doesn't go very deep into the massive Mega Man roster. Remember that this is a series that has almost a dozen games, and several dozen Robot Masters to go along with heroes like Mega Man himself, Roll, and Rush.
Aimed for release before the end of the year, Jada's take on the games is looking sharp. Starting with the original 80s classic, wave 1 will include Mega Man, Ice Man, and Fire Man, and each will come complete with the same level of accessories as Street Fighter II.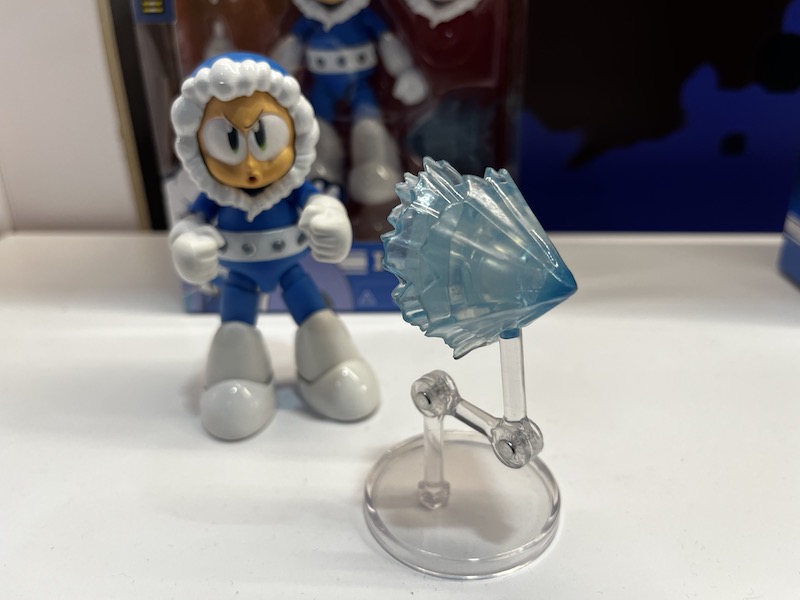 Jada was a little less forthcoming with future plans as goes Mega Man, but if Street Fighter II is anything to go by, we can likely expect to see a decent amount of toys. Hopefully too, and this would depend on the series catching fire with fans, we'll see the license extend to Mega Man 2, 3, and all the rest.Maybe make some shelf space.
Grabbing that Pink Slip
Switching gears for a bit, Jada also had plenty on hand of what made it a name in the collector community to begin with. That includes two lines, with one being packed with dioramas. That's Nano Scenes, which is completely separate from the impressive Pink Slips series.
While the name might sound odd at first, Pink Slips is actually pretty slick. While these are obviously models, the idea is that the series gives collectors the 'pink slip' (think 'owner's docs') for the vehicle in question. And speaking of, those vehicles are unique to say the least. The line features actual real-world cars in its lineup, right down to the paint-jobs and excellent interior detailing.
Those who keep up with car culture might even recognize some of them in the gallery below, as they hail from the collections of social media influencers and culture-mainstays.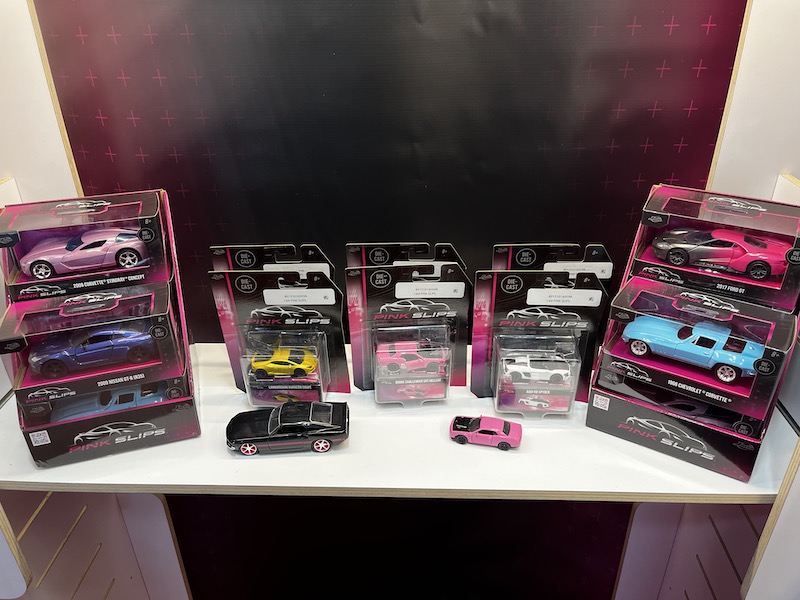 While we're showcasing cars, we'll also dip into the Nano Scenes lineup, which so-far includes Jurassic Park and The Fast and the Furious. Now, these aren't specifically new sets and vehicle packs. They've all been out for a while (and of course come from classic films), but they're cool and Jada was showing them, so we figured we'd snap a few pics for those who've yet to dive in.
We might as well mention too, and although there's nothing specific in the works, a Jada representative at the Toy Fair booth did mention that there is a chance at more dioramas in the future. So keep an eye out because there might be more to come.