If you're still down with a bit of the old DCEU, Spin Master has some brand new Aquaman figures out right now.
Rising from beneath the waves
It's honestly kind of hard to tell whether we're done with the original "DCEU". It seems that most fans thought that movie-universe came to a close with The Flash, but did it? Yes, The Flash ushered out the so-called Snyder-verse versions of Superman and Batman, but it also kept Ezra Miller as the title hero and actor Jason Momoa as Aquaman. Speaking of, the latter will be starring in a brand new Aquaman flick coming up to cap off the year.
That movie will have some toys too of course, thanks to one of DC's biggest licensees, Spin Master. Expect to see a limited lineup of action figures, which should be in stores right now, including a 12″ Aquaman figure with voice from the film, plus a double pack of 4″ figures.
That box set stocks both Aquaman and his nemesis Black Manta, who are packed in with a cool looking mini-submersible complete with lights and sounds. Scroll down to take a look.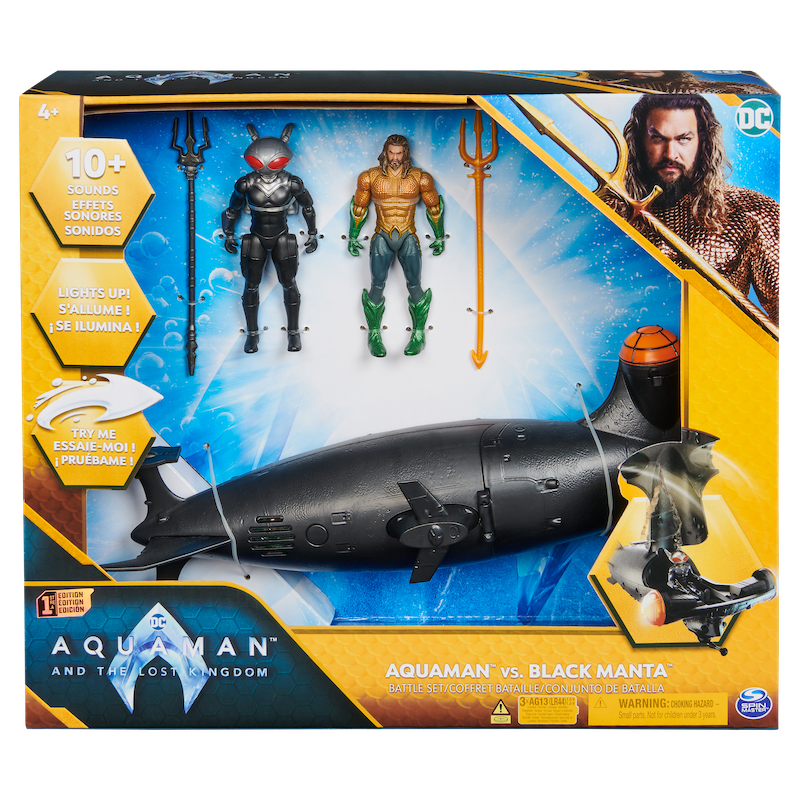 MSRP: $32.99 | Age: 4+ | Available at Amazon and Target, November at Walmart

Recreate epic underwater movie battles with this playset featuring a true-to-film submarine spanning 12″ long with cool lights and sound effects. Open the cockpit, load the included 4″ Aquaman and Black Manta figures inside and spin the submarine propellers to kickstart your underwater adventure. Compatible with all 4" figures (sold separately). Includes 3 AG13 batteries.
MSRP: $24.99 | Age: 4+ | Available on Amazon

Bring the King of the Seven Seas to life! This 12" Aquaman figure, dressed in his new Stealth Suit, is sculpted with 11 points of articulation and movie-like styling to recreate all the heroic action on screen. Push up, left or right using the tab on Aquaman's back to strike enemies with his light-up batons. Hear unique sound effects and Aquaman's cool phrases like, "It's time for Atlantis to rise." Includes 3 AG13 batteries.
Spin Master press release