As crossovers go, this is one that actually makes some sense. Celebrating 20 years, The Walking Dead is crossing over with Dying Light 2.
Dying Dead?
Zombies. They're still a hot commodity, even after years of featuring in movies, TV, and video games. Was Skybound Entertainment and Robert Kirkman's The Walking Dead comic the first to really usher in the new age of the walker? Might've been, but even if it wasn't, the book turned TV-universe has more than stood the test of time as a fan favorite.
In fact, the now-completed comic that started it all is celebrating its 20th birthday, and it's doing so in style. A glut of new TWD shows are either hitting AMC now, or soon will, but that's not all. On top of TV, TWD is also coming to a certain smash hit video game that also stars the undead, with Dying Light 2: Stay Human.
Techland's open-world actioner will be celebrating the big occasion with The Walking Dead Event. A week-long series of happenings, the Event will kickoff on Wednesday, July 26th, at 10am eastern time, and run through Wednesday, August 2nd (also at 10am).
Every day will have something new, in the form of Personal Goals, and once completed, those will result in a collection of comic covers and an in-game weapon charm.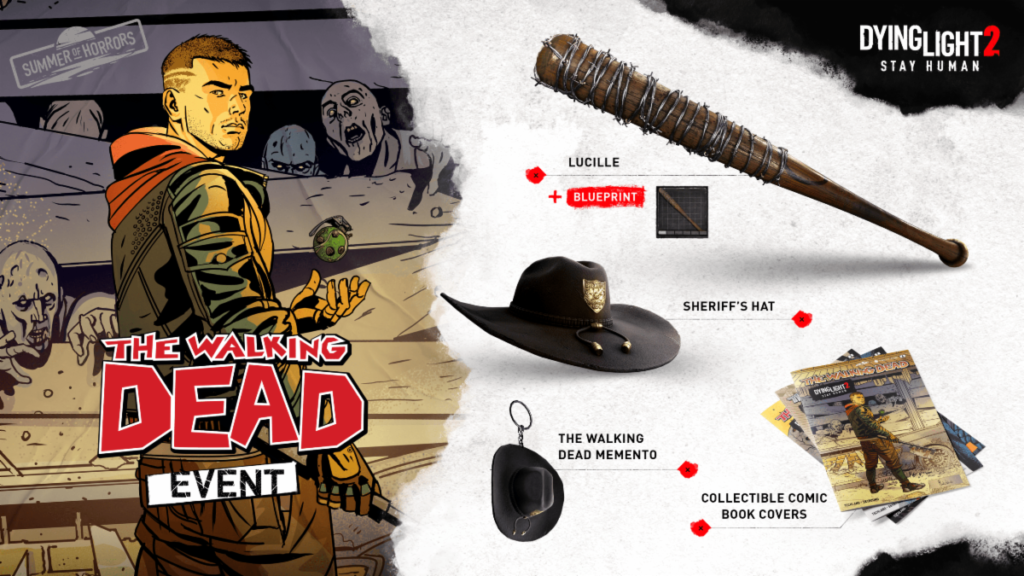 Each day will present a new Personal Goal, such as killing enemies using ranged weapons or dismembering the infected, rewarded by a unique Comic Cover – think Dying Light 2 Stay Human meets The Walking Dead aesthetic – that can be gathered by players in-game. Each collectible, featuring stylized art from famed Polish artists Marek Oleksicki and Łukasz Owdziej, is made available only on a specific day, as it is assigned to a corresponding Personal Goal. Players who manage to get all 7 Comic Covers can try to reach the Collection Goal. Those who complete it will claim The Walking Dead memento weapon charm as a prize.

Techland press release
On top of that, there are more… impactful possibilities. Negan's barbed-wire bat of choice Lucille is coming to Dying Light 2, but you'll have to be "ruthless" to get it. Players will have to individually eliminate 850 enemies across the TWD event week in order to get both the bat and the blueprints for it.
Want more? Well, if the total player base of Dying Light 2 can kill 160 million foes during the crossover, Rick's Hat will be unlocked for all. So theoretically, you can deck yourself in Rick's hat and wield Negan's bat. Come on, that rhymes and everything.
Or you could just buy it all
Wait a minute, there's more? Yep, there is. The week will also see the arrival of The Walking Dead Bundle of DLC. Priced in at $7.99 USD for all versions of the game, the Bundle will net buyers almost all of the above unlockables, plus way more.
Rick's outfit is included, along with Lucille, Michonne's Katana, Negan's Knife, and a The Walking Dead paraglider. Not too shabby, and way easier than completing the in-game goals, if you're cool with parting with the eight bucks.
Dying Light 2: Stay Human is out now for Xbox and PlayStation platforms, as well as the PC. If you haven't grabbed a copy yet, why not check out our review?