Red Sonja is coming to San Diego this week, for a special Dynamite Comics panel. And she might be bringing a trailer with her.
All the way from Hyrkania
A part of Robert E. Howard's Hyborian Age, the savage warrior called Red Sonja has been around for a long time. As popular as she's been in the past though, she might be about to rise to some brand new highs, thanks to publisher Dynamite Comics and a big screen movie.
That film will be coming to theaters from Millennium Media, and will star actress Matilda Lutz, but it's not all that Sonja has on the horizon. The character's future will be laid out for fans at a special panel from Dynamite, happening this coming Friday at SDCC.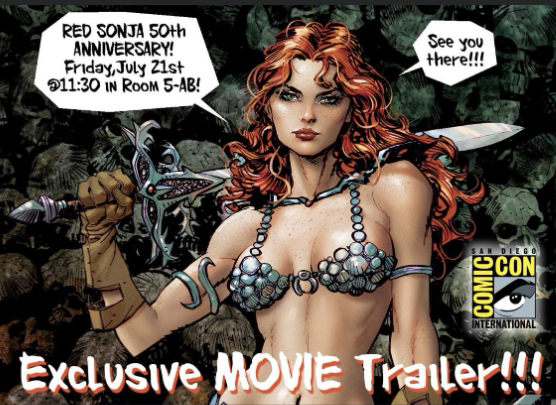 The beloved She-Devil With a Sword's story began in comics in 1973, and now 50 years later she remains the greatest sword-and-sorcery female heroine of them all! She's hacked and slashed her way into the hearts of fantasy and comics fans all around the world. An incredible range of writers and artists have taken on her stories in her native comics medium, including the likes of Roy Thomas, Frank Thorne, Gail Simone, Mirka Andolfo, Mike Carey, Michael Avon Oeming, Jim Zub, Louise Simonson, Mark Russell, Alex Ross, Mel Rubi, and countless more.

With the first issue launching right in sync with San Diego Comic Con, fans will get to dive right into her latest epic series celebrating the anniversary by Torunn Grønbekk (Thor, Realm of X) and fan-favorite franchise artist Walter Geovani. How this series came together and teases for what comes next will be discussed on the panel. As well as a surprise additional comic series by a top creator!

Millennium Media press release
In addition to all the comics talk, fans who attend the showcase will be treated to a teaser for the aforementioned movie. It sounds like the early look will be out on the net afterwards, but if you want to see it before anyone else, the panel's the place.
Look for that on Friday, July 21st, from 11:30 am to 12:30 pm (pacific time), in room 5AB at the convention center.