SDCC will play host to an Image Comics booth next week, but it'll have a special setup too, for Geoff Johns and Gary Frank's Geiger as well.
Counter
Between Oppenheimer and Image Comics' Geiger, there's a heck of a lot of radiation flowing around pop-culture this summer. That'll continue with the Sand Diego Comic Con next week too, as the latter property will have its own booth (#1320).
Why a separate experience, away from Image's main presence? That's not all that clear, but the post-apocalyptic "The Unnamed Universe" that serves as the comic's setting seems to be rapidly growing, so it's kind of its own thing at this point.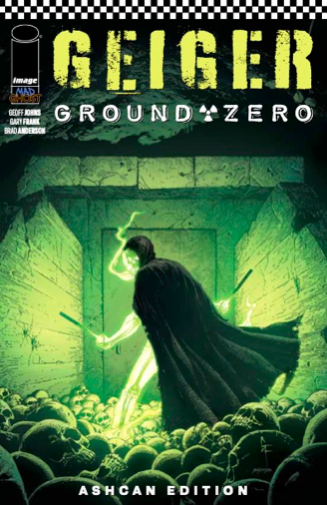 "The response to Geiger has been truly overwhelming," said Johns. "We're excited to continue building Geiger, Junkyard Joe, Redcoat, and the rest of The Unnamed Universe, so having a dedicated presence at this year's Comic-Con is a great opportunity to further share it all with fans." 

Image Comics press release
And sharing it is just what they'll be doing at said booth, both metaphorically and physically. A special ashcan edition (remember those?) teasing Geiger: Ground Zero will be given out at the booth, that sounds like a decent taste of what the title serves up. The ashcan will run 8 pages, and be presented in full color.
Past Comic Con, there's more Geiger news to share, as the superhero saga will be getting a live action TV show. That'll be brought to the Paramount+ streaming platform, and hail from a team-up between Geoff Johns' own Mad Ghost, and Justin Simiens' Culture Machine.