Comics publisher IDW has an impressive slate of properties heading to Comic Con this month, including some of the biggest names in pop culture.
Headliners
When you're talking about crowd-pleasers in the world of pop culture, few independent publishers can produce the kind of names that IDW can. Though the company has seen some of that catalog diminish in recent years, it's still a force with the likes of evergreens like Teenage Mutant Ninja Turtles, and resurgent IP's like Star Trek.
IDW will be capitalizing on all of them too, with its SDCC 2023 appearance. The booth will play host to both exclusive editions and signings, including the legendary Michael Golden. You'll be able to find all of the below in booth #2729 on the show floor, when the con kicks off later this month.
Here's how it breaks down, just keep in mind that a lot of the details on the signings are yet to be announced. You can still get an idea of who's going to be on hand though.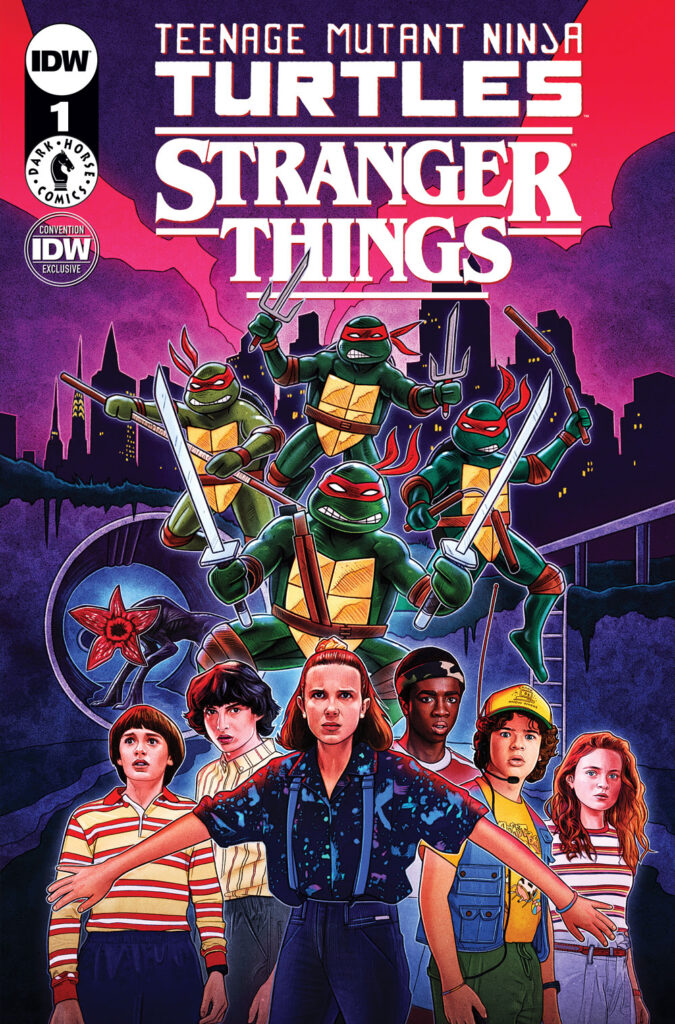 Signings
TEENAGE MUTANT NINJA TURTLES x STRANGER THINGS #1 hits shelves July 12, and fans at SDCC will have exclusive access to renowned illustrator Kyle Lambert's silver foil paper variant for the thrilling debut issue.
Comic collectors won't want to miss out on getting an early signed copy of MICHAEL GOLDEN'S MARVEL STORIES ARTIST'S EDITION. Signed by influential comic creator Michael Golden and numbered on a bookplate featuring his astonishing artwork, there will be a very limited amount of copies available.
The Eisner-nominated STAR TREK series unleashes DAY OF BLOOD #1 the week of SDCC, and the IDW booth will feature an eye-catching exclusive variant cover by STAR TREK artist Ángel Unzueta. The must-own issue is boldly printed on silver foil paper.
Continuing awesome artist Ben Bishop and eye-catching colorist Luis Antonio Delgado's series of exclusive variants, April O'Neil stars on the cover for TEENAGE MUTANT NINJA TURTLES: THE LAST RONIN – THE LOST DAY SPECIAL. Bishop will be signing at the booth – details to come – and unlike the other variants in the series, this one features black bars instead of light blue.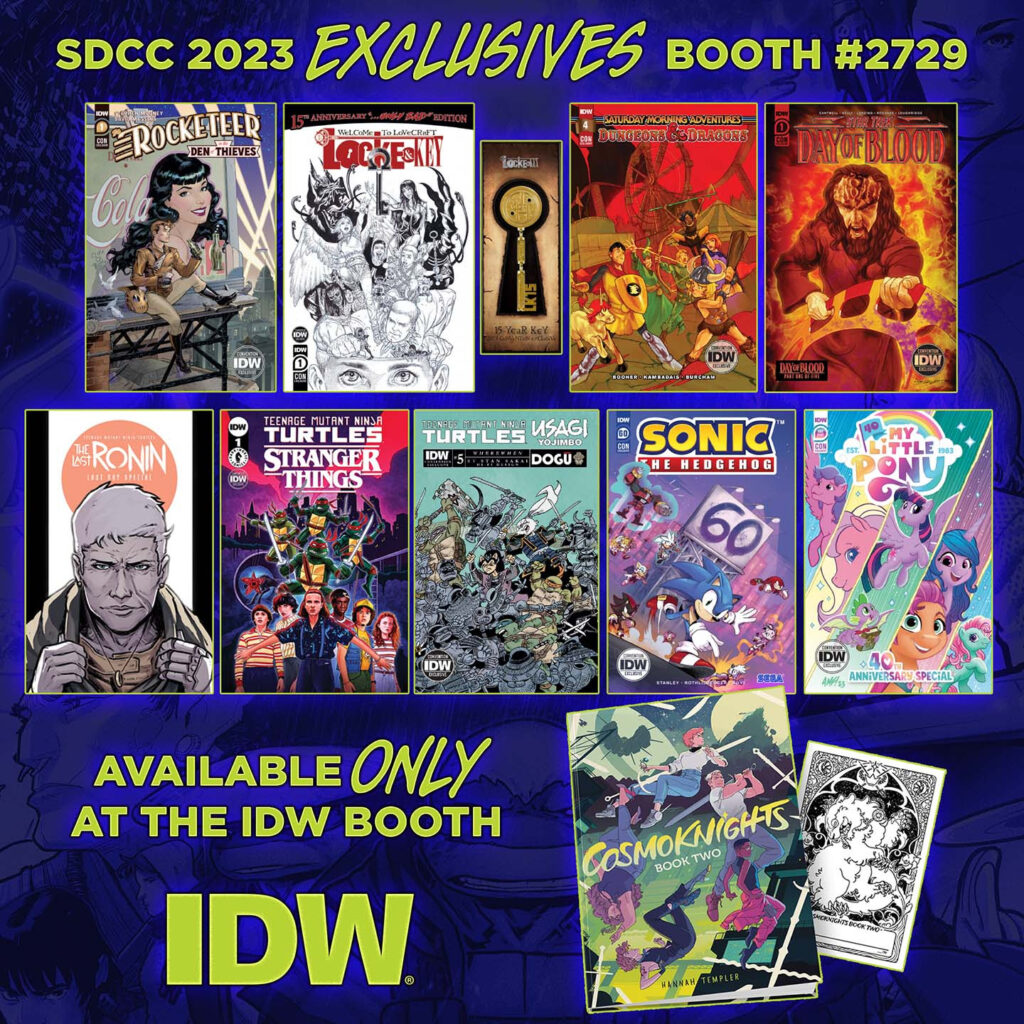 Available only at the booth
LOCKE & KEY: WELCOME TO LOVECRAFT #1 – 15TH ANNIVERSARY EDITION
Black & White exclusive variant featuring original artwork by Gabriel Rodriguez
LOCKE & KEY 15-YEAR KEY
Designed by Gabriel Rodriguez in collaboration with the Skelton Crew Studio, this collector's item features Joe Hill's initials on the front handle, "2008" text on the front base of the key, and Gabriel Rodriguez's initials on the back handle of the key with "2023" text across the back base
MY LITTLE PONY 40TH ANNIVERSARY SPECIAL
Exclusive cover by Tony Fleecs
THE ROCKETEER: IN THE DEN OF THIEVES #1
Exclusive cover by Michael Dooney
TEENAGE MUTANT NINJA TURTLES/USAGI YOJIMBO: WHEREWHEN #5
Exclusive silver foil variant with artwork by Stan Sakai's original cover art
DUNGEONS & DRAGONS: SATURDAY MORNING ADVENTURES #4
Exclusive wrap-around cover artwork by Bruno Oliveira
SONIC THE HEDGEHOG #60
Printed on silver foil paper and featuring exclusive cover artwork by Gigi Dutreix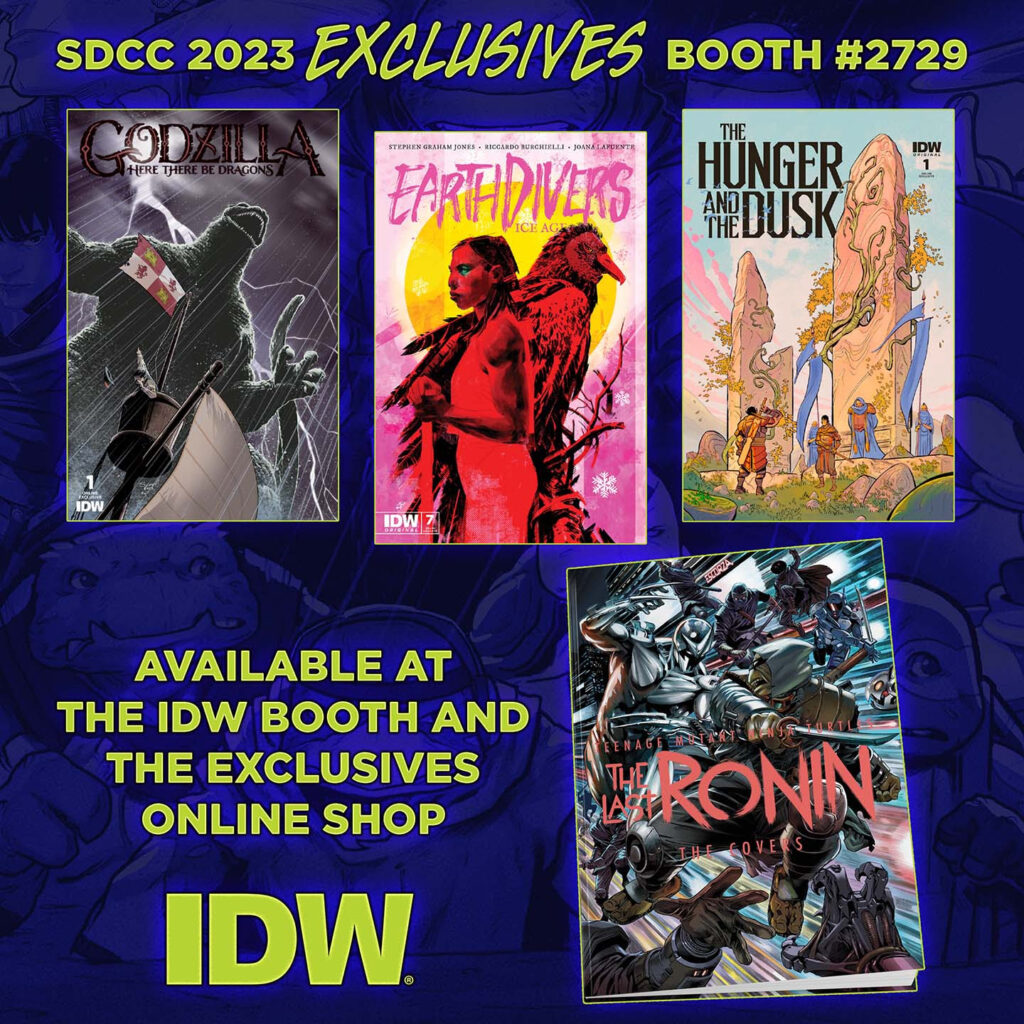 Available both in the booth, and online
THE HUNGER AND THE DUSK #1
Artwork by Kyle Strahm
EARTHDIVERS #7
Artwork by Rahsan Ekhedal
TEENAGE MUTANT NINJA TURTLES: THE LAST RONIN – THE COVERS
Hardcover and dust jacket – which features the line art to colors process – artwork by Esau Escorza and Issac Escorza
COSMOKNIGHTS, BOOK TWO
Bookplate created and signed by Hannah Templer
GODZILLA: HERE THERE BE DRAGONS #1
Artwork by Scott Godlewski