Ever play PC games from your couch? It's not a comfortable experience, but that's what the Couchmaster CYBOT is looking to address.
A place to play
I am most definitely a lapsed PC-builder. I used to love digging in and buying new components for my PC, which honestly wasn't all that long ago. But be that as it may, I indeed did lose the taste for it, and made my move to the 'gaming laptop'.
I did it mainly for the ease of use, but also for the portability. As I'm sure many other people have, I figured I'd be able to take it with me anywhere, and play whenever I wanted. That's… not quite how it works in practice though. After all, if you're gonna play video games on a lappy, you kind of need something to rest it (and a mouse).
Let's be honest, playing on a dining room table or in the kitchen isn't quite the dream. You have a great screen and nice high-end components, and you can't even play your games from the couch. Unless you can.
There's actually a lot to this
The Couchmaster CYBOT, from NerdyTech, is incredibly deceptive. When you first look at it, you honestly might think that there's really not all that much to it. It's got a hard surface as well as some padded arms, and that's about it.
Yes all of the above is true, but the Couchmaster is also modular. That's to say that you can use the top, the sides, or the whole thing. You can also build it out kind of how you like, since the piece has an optional pouch, mousepad, and tablet-adaptor. And that's in addition to other accessories that you can pick up.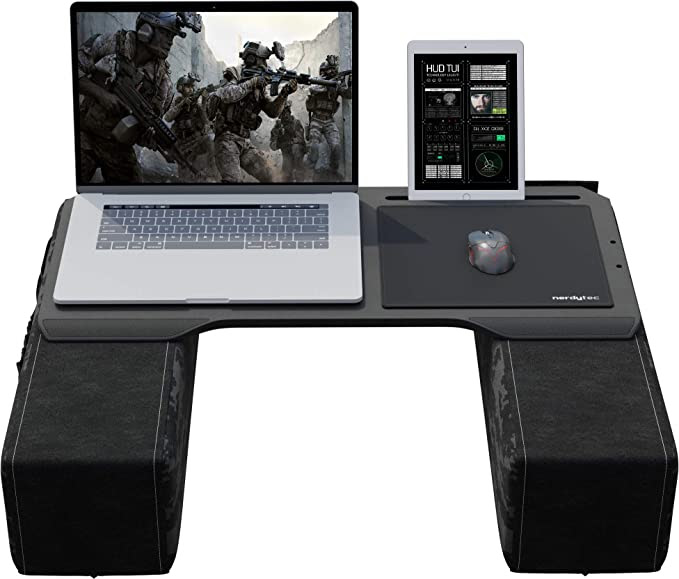 Since the top and sides aren't fused permanently either, you can change 'em all up on the fly. So no matter what your situation is, you can likely get the Couchmaster to work for you.
Master of all
So as I mentioned, the Couchmaster can be made to fit for a few different needs. The main one of course, is the full piece, which has the hard surface and arms in tandem.
Using that, you have access to two side pouches, one of which has a mesh component. That's specifically meant to hold a power-brick, allowing for maximum airflow. On top of those, there's also a front mounted pouch (that's kind of optional) that's useful for remotes, Switch game-cards, or really any small devices.
There's so much room on the two arm-rests though, there could easily be more pouches. Not that I'm exactly sure what you would do with them, but there could have been additional storage options. As for the 'desktop' I mentioned before, it's not just a surface.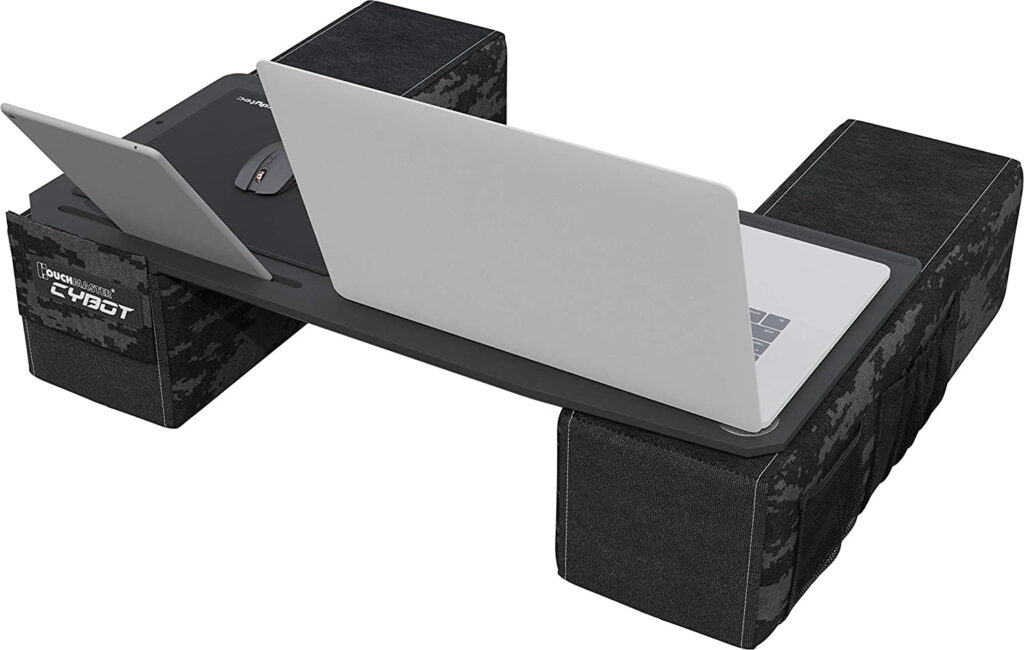 The top of the Couchmaster includes a vented left side, which once again has an eye towards airflow. It's got that covered and then some, and with the surface being so generous, there's plenty of room for most laptops. Then to the right of that spot is your mousing surface
The Couchmaster includes an adhesive pad, for which a mousepad is meant to be affixed. You don't particularly have to use said adhesive if you'd rather use the pad back and forth between your desk and the Couchmaster, but it does work terrifically. Just a note here, because while the previous sentence might seem odd, the mousepad that's included is great. So, you know, you might want the option.
Finally, there's a cutout for a tablet. That's meant to keep your portable handy and ready to use. It works just as intended, and also includes an adaptor that you can add, should your tablet be too thin for the existing opening.
Quality all around
I was knocked over by the make of the Couchmaster, as I'd expected something entirely different. This is, in no way, a chintzy piece of kit.
The hard desktop is nice and sturdy, with a matte black finish. It seems more likely to break your floor than the other way around, if you drop it. This thing's hefty, though it's not heavy, so if you choose to use just the desktop across your legs, you shouldn't be overburdened.
The same level of quality goes for the arm-rests, as both of them are made from a high-density foam interior, and a thick fabric cover that can be zippered off. You might have to iron the fabric of the arms when you get them, since they're packed compressed, but that's about all the maintenance that any part of the Couchmaster will need.

Overall
It's a bit of a niche for sure, but if you're looking for a lap-desk that will add computing-comfort and ease of use to just about any couch or oversized chair, the Couchmaster CYBOT should fit the bill nicely.
A review unit was supplied to BG by NerdyTech for this review
Couchmaster CYBOT
Release date: Out now
Manufacturer: NerdyTech
MSRP: $156 USD
Modular comfort
Ease of setup - 95%
Use - 88%
Proficiency - 95%
The Couchmaster CYBOT is a lap-desk that's much more than it first appears. With modular components, an incredibly sturdy build, and multiple uses, it should fit the bill nicely for almost any couch-based user.