What If… ?, if you don't know, is back in a very big way. The classic comic has made its way to the MCU, and DST's line of Marvel Minimates.
But really, what if?
Did you watch "What If… ?"? No, I'm not sure if there was a need for another "?" there, but I did it anyway. And besides, if you watched the show, then you know that it's all about questions, just like the classic Marvel comic of the same name.
Each issue of What If… ?, more or less, posed a question that altered the Marvel U or its characters in some fundamental way. And while the book is no longer around, the new TV series very much looms large, acting as a portal to the Marvel Multiverse and showcasing alternate worlds where things shook out a little (or a lot) differently.
One such reality, maybe the most gruesome, saw the Quantum Realm spawning a virus that spread a zombie-plague. And just like in the Marvel Zombies comics, this plague infected the superhuman right alongside normal people.
That episode is also the subject of Diamond Select's first Marvel Minimates series based on the show. And yes, it's chock full of the undead. And Scott Lang's head. On a floating plate. Yeah.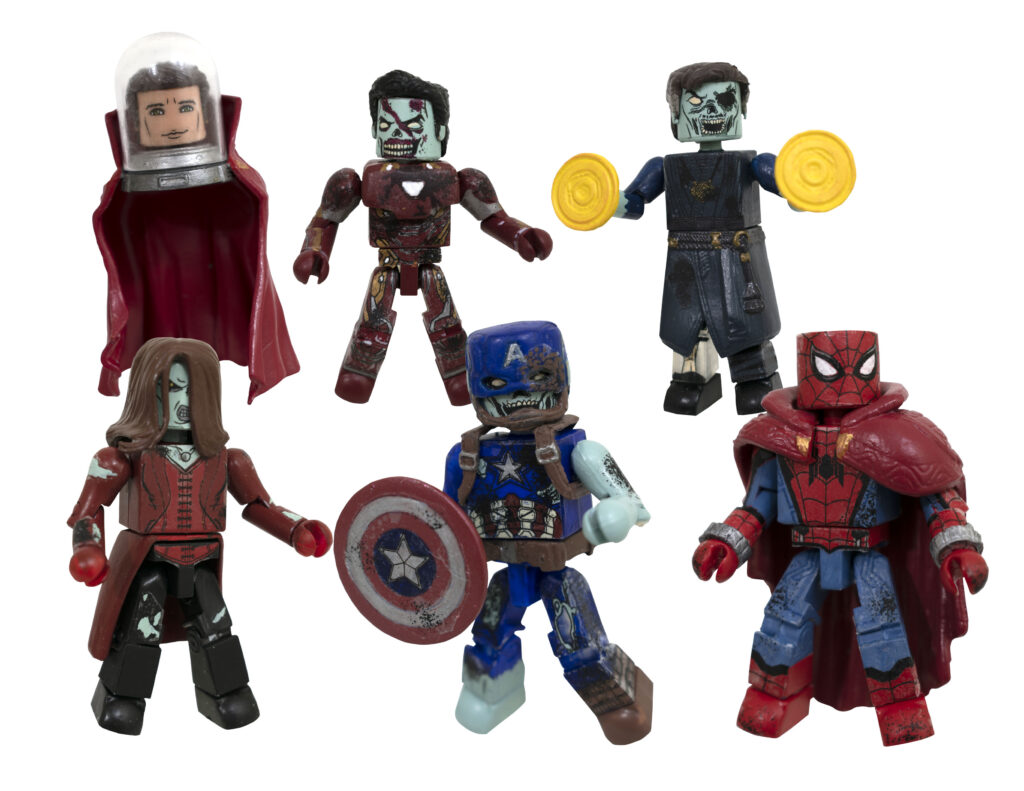 In this all-new six-pack, Sorcerer Spider-Man and Scott Lang's Head in a Jar face (each with their own cape) face off against zombie versions of Captain America, Iron Man, Doctor Strange and the Scarlet Witch. Each 2-inch Minimate features multiple points of articulation, and all six come packaged in a hexagonal blister card. All were designed by long-time Minimates artist Barry Bradfield.

DST press release
The above box-set actually represents something other than the first What If… ? set too, as it's a part of the 40th anniversary of Diamond Comics, and the 19th year of Minimates. In fact, the staggering 83rd series of the latter is coming out later this year, with the Fantastic Four headlining. Some haughty numbers right there.
As for the Zombies, look of them to start shipping out to stores this fall.