A niche FPS classic from the 90s, Blood is back thanks to Nightdive Studios. And thanks to Limited Run Games, there's a Collector's Edition too.
Time to blast some cultists
If you were playing PC shooters back in the late 90s, and who wasn't, then there's a good chance that you played Blood. Originally from Monolith, Blood cast players as Caleb, a former servant to an evil god, who'd been risen from the dead. And being a former servant, his goal was to wipe the cosmos clean of said being.
Blood was a straightforward FPS, cast in the Duke 3D mold, but featuring radically different graphics and themes. A few years ago, the retro-masters at Nightdive Studios brought Blood back from the dead, as Blood: Fresh Supply.
Fresh Supply built on the original, as Nightdive does, with some modern improvements. Essentially the same game as the original, BFS 4K support, keyboard and controller customization, modding support, and new netcode, among other things.
And it's that version of the game that's just now getting the Limited Run Treatment.
Originally released in 1997, Blood is a FPS that helped redefine the genre and introduced many elements now accepted as commonplace. In the original and the updated Blood: Fresh Supply, players jump into the boots of undead gunslinger Caleb as he seeks revenge against the dark god Chernobog. Caleb's arsenal features a mix of standard and occult weapons, which he uses to devastating and gore-filled effect. In the game, players visit a terrifying world populated by hordes of bloodthirsty fiends – including cultists, gargoyles, zombies, hellhounds, and an unholy host of other terrors.


Limited Run Games press release
About that CE
So that's Blood, if you needed a refresher, but we're talking Collector's Editions today as well. That, as mentioned, comes out of Limited Run Games, and it's a pretty impressive addition to that company's line.
Blood: Fresh Supply – Collector's Edition goes the classic 'big box' route, and serves up a physical copy of the game on PC (yep), along with a heaping helping of add-ons and generally cool stuff.
If you're a fan of that original, this is one that you're gonna want to check out.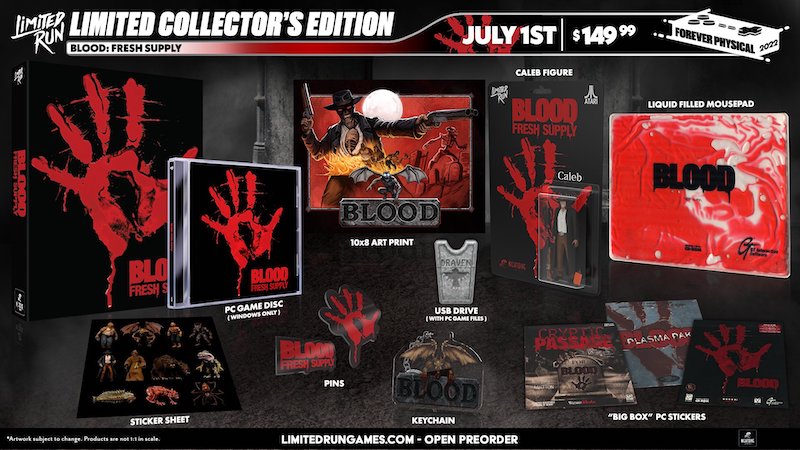 Physical Copy of Blood: Fresh Supply for PC
Blood: Fresh Supply USB Drive- With Game Included
10X8 Blood: Fresh Supply Art Print
Caleb Figure
Liquid Filled Mouse Pad
"Big Box" PC Stickers
Keychain
Blood: Fresh Supply Pins
Sticker Sheet
The "liquid-filled" mouse pad pretty much did it for me. If it's piqued your interest as well, then you'll be happy to know that Blood is up for pre-order right now on LRG. It's tagged with a $149.99 USD price tag, and you can find it here.