The N64 gets an update in this week's Nintendo Download, thanks to the arrival off Mario Golf. Don't like golf? How about a little Force Unleashed?
Golfing in a galaxy far, far away
Okay so technically they're not directly linked, but Star Wars golf does sound like something that might've hit a few white boards back in the late 80s/early 90s. I could see it, is all I'm saying. But though this week's bigger releases on the Switch aren't thematically related, they do share one thing. And that, is that they're both re-releases.
First up, Mario Golf hails from the N64's heyday, seeing original launch in 1999. While it's not one of the Italian plumber's main sporting-activities, it remains a favorite of that console's devotees. And it's now a part of the N64 corner of the Switch's "Expansion Pack", online subscription service.
Then there's Star Wars: The Force Unleashed. Also a re-release, this new Switch title brings the Wii version back to life, placing players in the shoes of Starkiller.
If you don't know who that is, he's one of the most interesting Expanded Universe characters in the fiction, a secret apprentice of Darth Vader himself. I haven't played the Wii edition, but the Xbox version had excellent controls, and terrific graphics (for the time). Maybe most importantly though, the story is genuinely good. If you're a SW fan and haven't played it, it's probably still worth your time.
Nintendo Switch Online + Expansion Pack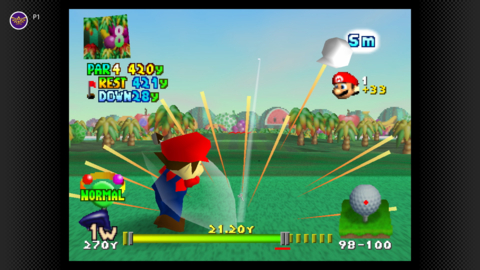 Mario Golf – Tee up with Mario when the Nintendo 64 game Mario Golf hits the fairway on Nintendo Switch and the Nintendo 64 – Nintendo Switch Online library. Get into the swing of things with 14 characters from the Mushroom Kingdom, including familiar faces like Yoshi, Wario, Baby Mario, Peach and Donkey Kong. Choose from 10 different modes, like Speed Golf, Ring Shot and Tournament, and even engage in multiplayer swing-fests with up to three friends in certain modes. Originally released on the Nintendo 64 in 1999, Mario Golf has Wario himself proclaiming, "You're gonna love it!" Mario Golf will be available starting April 15 for players with a Nintendo Switch Online + Expansion Pack membership.
Nintendo eShop on Nintendo Switch

STAR WARS: The Force Unleashed – You are Starkiller, Darth Vader's secret apprentice, and you must destroy all who stand in your way. Use the Joy-Con motion controls and take advantage of devastating Force powers and lightsaber combos to do Darth Vader's bidding and defeat Jedi Masters on familiar worlds, including Cloud City and the Wookiee home world Kashyyyk. You can even challenge a friend to a one-on-one showdown in the local multiplayer Duel mode! STAR WARS: The Force Unleashed will be available on April 20.
Nobody Saves the World – When the ancient Calamity re-awakens, who can save the world? Nobody! (That's you – you're Nobody.) Master the art of transformation to become a Slug, Ghost, Dragon and more in this new take on action RPGs from the creators of Guacamelee! Complete quests to discover and swap between more than 15 varied and distinct Forms. Mix and match abilities in unexpected ways to unlock and complete even more challenging quests. Explore a vast overworld – on your own or with a friend online – while clearing shape-shifting dungeons to stop The Calamity and save the world!
Pre-Orders:
Demon Slayer -Kimetsu no Yaiba- The Hinokami Chronicles – Relive memorable moments from the hit anime Demon Slayer: Kimetsu no Yaiba through the eyes of its protagonist, Tanjiro Kamado! In this action game you'll follow the anime's story from theUnwavering Resolve Arc – where Tanjiro joins the Demon Slayer Corps – to Demon Slayer -Kimetsu no Yaiba- The Movie: Mugen Train, which features the Flame Hashira, Kyojuro Rengoku. Face off against demons from the anime series with graphical effects that faithfully recreate the iconic battle techniques in full 3D. Plus, choose from a cast of 24 characters and battle a friend in Versus Mode! Pre-order Demon Slayer -Kimetsu no Yaiba- The Hinokami Chronicles now before it launches on June 10.
Nintendo eShop sales:
Nintendo eShop on Nintendo Switch, Nintendo 3DS and Wii U
Also new this week in Nintendo eShop on Nintendo Switch: