Mezco's latest One:12 Collective announcement is a true classic. It features Batman vs Two-Face, with each character decked out in Golden Age glory.
Bam! Pow!
A simpler time in comics, the do-called Golden Age produced many of the heroes and villains that still drive the industry today. And while the looks and themes of these characters might have given way to modern influence, those classic costumes are still every bit the icons they've always been.
Toy-maker Mezco's latest entry in the long-running One:12 Collective action figure line plays right off of that nostalgic feel. Both Batman and Two-Face are included in this new set, and both are costumed in their classic duds and future all-new sculpts.
Other than the figures, the set also includes a number of extra hands, facial portraits, and effects pieces. What you won't see though, are guns. Why? Well that's simple, as Warner Bros has decreed that DC figures can't include them any more.
But while no tiny firearms are included, that doesn't mean that you can't get any. Mezco has also posted for sale a totally inconspicuous set of guns and additional effect pieces. It's called the Double Trouble Weapons Expansion Pack.
That's priced in at $35 USD and looks like it's shipping now.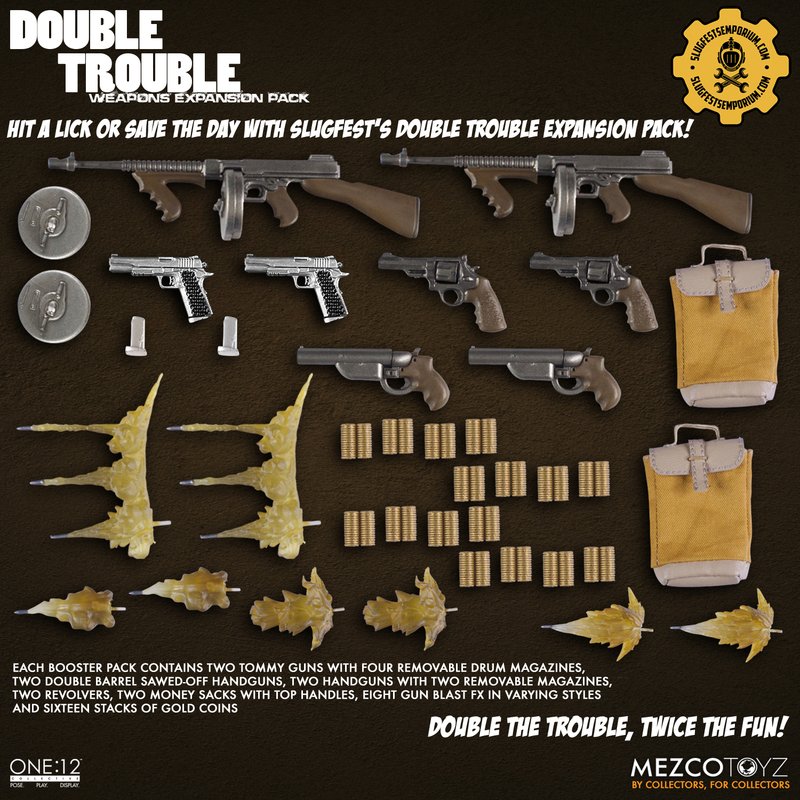 Batman vs Two-Face is priced at $190 USD, with Mezco saying it'll be shipping this spring.
THE ONE:12 COLLECTIVE BATMAN VS TWO-FACE BOXED SET FEATURES:
Batman

One:12 Collective body with over 28 points of articulation
Five (5) head portraits
Hand painted authentic detailing
Approximately 17cm tall
Ten (10) interchangeable hands

One (1) pair of fists (L&R)
Two (2) pairs of posing hands (L&R)
One (1) pair of holding hands (L&R)
One (1) pair of karate chop hands (L&R)

Two-Face

One:12 Collective body with over 28 points of articulation
Three (3) head portraits
Hand painted authentic detailing
Approximately 16cm tall
Thirteen (13) interchangeable hands

One (1) pair of fists (L & R)
One (1) pair of posing hands (L & R)
One (1) pair of coin rolling hands (L & R)
One (1) pair of coin flipping hands (L & R)
One (1) coin flipping FX holding hand (R)
One (1) pair of handgun holding hands (L & R)
One (1) submachine gun support hand (L)
One (1) coin flip outcome hand (L)
COSTUME:
Batman

Cowled head
Chest insignia
Leather-like cape
Fitted Bat Suit
Utility belt with two-way Bat-radio belt buckle
Boots

Two-Face

Tailored two-toned suit
Tie
Belt
Dress shoes
ACCESSORIES:
Batman

Two (2) Bat bolas
Five (5) different style Batarangs
One (1) Bat mask (can be held)
One (1) Rebreather breathing apparatus
One (1) two-way Bat-radio (connects to utility belt)
Two (2) 3D punch FX (connects to fists)
One (1) One:12 Collective display base with logo
One (1) One:12 Collective adjustable display post

Two-Face

One (1) time bomb valise
Four (4) switchblades
Four (4) lucky coins
Four (4) lucky coins flipping FX
One (1) One:12 Collective display base with logo
One (1) One:12 Collective adjustable display post
Each One:12 Collective Golden Age Batman vs Two-Face Boxed Set is packaged in a collector friendly box, designed with collectors in mind. 

Mezco