A figure ripped from the silver screen, Hot Toys is going big for its next Batman. Their latest is a quarter scale piece based on the Dark Knight films.
A Dark Knight
It seems as though most Batman fans have a clear favorite amongst the so-called "Dark Knight Trilogy". For most that seems to be The Dark Knight itself. And if that's you, you're in luck with Hot Toys' latest.
The figure technically is a play on the Batman's look in both TDK and The Dark Knight Rises, and it's pretty incredible. Not only does it sport Hot Toys' legendary attention to detail and a ton of awesome accessories, but it's forged in quarter scale.
Yes, this new figure is a massive 18.5″ tall. I. can't think of any other Hot toys figures in that scale, though the press release doesn't mention this being a first, so I assume there have been others. Regardless, it's incredibly cool.
The Batman 1/4 scale figure features:
1/4 scale Batman body with over 32 points of articulation
Individually hand-painted and ultra-detailed likeness of Batman/Bruce Wayne from The Dark Knight trilogy
One newly painted head sculpt of Christian Bale as Bruce Wayne with accurate facial expression and detailed skin texture
One Batman masked head sculpt with adjustable eyes and three interchangeable lower face elements, capturing his classic facial expressions from the movie
One Batman masked head sculpt featuring the "sonar vision" effect LED light-up eye function and interchangeable lower face elements
Seven pairs of interchangeable gloved hands for a variety of posing and display optionsOne fabric Batsuit with armor
Newly tailored cape
One utility belt (partial diecast material) and accessories
One pair of forearm gauntlets
One pair of bootsOne EMP rifle with LED light-up function (battery operated)
One sticky bomb gun
One grapnel gun
Three Batarangs (partial diecast material)
One miniature mine
Two ultrasonic cutters (attachable to utility belt)
Two radiation detectors (attachable to utility belt)
One flight pack
One chest bust-style collectible display stand (for either the Bruce Wayne head sculpt or the Batman masked head sculpts)
One diorama figure display base (includes elements inspired by Ra's al Ghul™, Bane™, and The Joker™)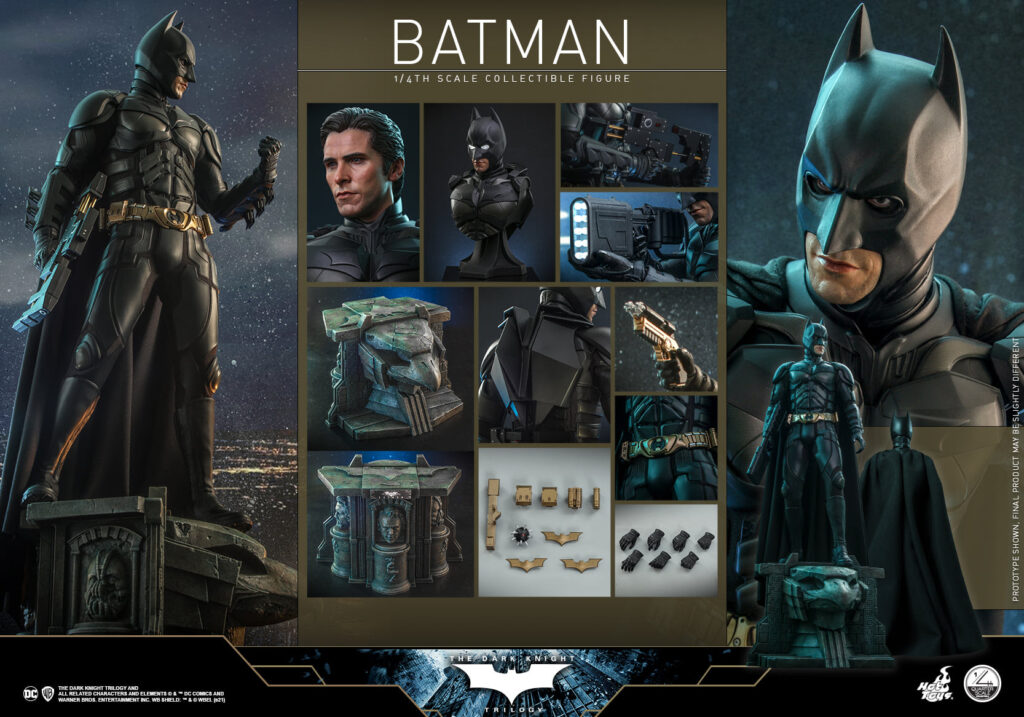 The collector edition of the figure is ready for pre-order now via Sideshow Toys, but so is the special edition. That version includes everything from the base release, plus a standalone kinda-sorta mini-bust of a cowl.
It's just a display piece, and cannot be swapped out onto the figure itself, but it is a nice little extra. There's also no extra cost associated apparently, so grab it while you can.
The "collector edition" (that's the basic one) and Special Edition are both priced in at $595 USD, and will arrive in spring of 2023. Yeah, they're a ways off.