World Rally Championship returns for a new season of play in WRC 10, from NACON and developer KT Racing. If you love rally, this one's for you.
Rally up
I have played racing games for a long time, probably since the original Pole Position on the Atari 2600. And while video game racing has come a long, long way since then, one thing hasn't changed a bit – I pretty much stink at them.
Now I have various levels of stinking, so keep that in mind too. It varies from 'I'm not that great' to 'I'm bloody awful'. Of course, there are various levels in between, though I'll add that most of the time I skew towards the former. Then there are rally games.
When it comes to rally titles, and this is universally true across the boards, I am on another planet up from horrendous. To my recollection I have never, and I mean never, been able to get the hang of what's a very specific style of racing play.
I tend to slide all over the place, and generally perform as bad as possible in almost any and every mode that they offer. In fact, it'd been years since I'd played a rally title at all before reviewing WRC 9 last fall. That game was a stiff reeducation for me as goes the genre, although I did come to enjoy it quite a bit.
And much like last year's model, I had a good time with WRC 10.
Start your engines
If you haven't played a rally game in a while either, or are new to the style of gameplay, there are a few things you should know. For starters, and this is probably the biggest deviation from genre norms, most rally racing is off-road.
It's rare that you'll find yourself driving on asphalt. Instead, you'll race on dirt, mud, gravel, and just about everything else. The results are races that will have you on edge every second.
Even straightaways, rare as they are, can easily trigger a massive screwup if you're not paying total attention, sending you into a ditch. It's almost like an action game melded with a racer, if that makes sense.
Playing counter to this though, is the crew management. Almost a separate game unto itself, WRC 10's crew and garage management is deep and complex. In these sections you'll actually hire and fire, as well as control every aspect of a racing company. That might sound like a lot, but it's actually really fun and a nice relaxed break from the tense races.
Aside from all of that too, there is a huge new addition as well with the livery system. Debuting in WRC 10, the livery system is a customization tool, though that's understating it. It's shockingly deep, allowing gamers to modify a suite of several dozen cars to their heart's content.
Using it, you can make cars look almost any way you like via stickers, lettering, and more. If you like the idea of crafting your own look, this one's for you. And on top of that, you can use these custom cars in the career mode, which is a really nice allowance.
Slippery when… always
As I mentioned, rally racing involves slipping and sliding around the tracks. And yes, this can be a shock if you're a gamer who's more accustomed to many of the other representatives of the genre. But again, keep in mind that's the way it's supposed to play.
I realize that many of the people reading this are probably quite used to that style though. WRC is a very popular series with tons of fans, it's just that I'm looking at it from a very specific angle. For me, sliding around a race track is a different kind of experience and one that's a bit uncomfortable.
Making tight turns through the game's wild and wooly world is a constant challenge, as is staying on the actual courses. It's very common (at least for me) to think you have everything in hand, only to suddenly tumble off an embankment or slide down a hill… in the wrong direction.
Fortunately, a simple button press will reset you onto the course, and facing in the right direction. Just keep in mind that you'll lose time if you use it. I can't say it bothered me, since I admittedly used it quite a bit.
Overall though, WRC 10 feels pretty much like WRC 9 did. So if you played that last year, then you know what to expect here. I will say that the controls feel maybe a little bit looser this year, which might be preferable for you, depending.
World of wonder
While the gameplay is a slight bit different from WRC 9, WRC 10's world is just as great looking. The natural world is the star of this game, and developer KT Racing has crafted it beautifully.
Unlike most racing games, WRC carves its tracks through the great outdoors. That includes real-world locales, as many actual rally courses are included in the game.
One of the toughest parts of WRC actually remains trying not to gawk at the surroundings while you're attempting to stay on the road. That includes the fantastic lighting effects, and weather. WRC 10 puts racers through almost everything that you can imagine. Remember, rallies don't get canned because of a little rain.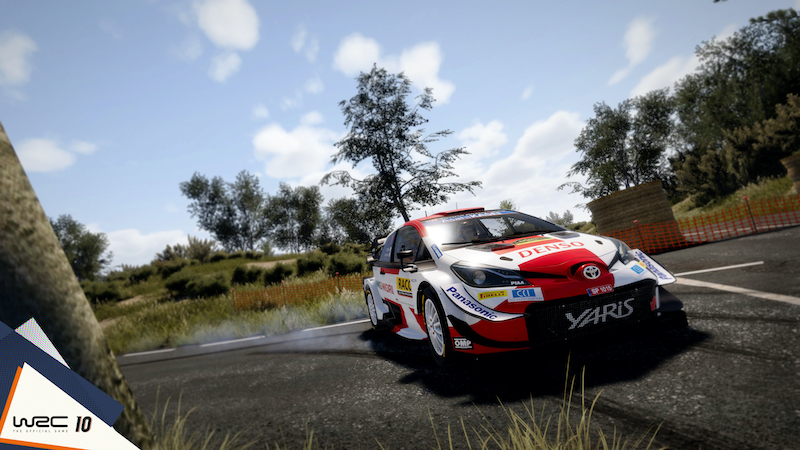 I will add here that I think WRC 9 was a little better looking on my Xbox Series X. Now that I think about it though, I'm sure that's because my PC is getting a little long in the tooth. Either way though, WRC 10 is a fantastic looking title. There's no denying that.
Overall
Once again, Nacon delivers a winner of a racing game with WRC 10. It also remains an acquired taste however, as rally racing is a unique animal. That said though, even someone who's not all that 'into it' had a good time with WRC 10.
WRC 10
Release date: September 7th, 2021
Platforms: PC (reviewed), Xbox One, Xbox Series X|S, PS4, PS5 (and Switch at a later date)
Publisher: NACON
Developer: KT Racing
MSRP: $49.99 USD
Watch that turn
Premise - 88%
Gameplay - 77%
Presentation - 85%
World Rally Championship fans already know hat to expect from WRC 10. NACON and KT Racing have delivered another terrifically authentic rally title, complete with all the trappings of the sub-genre. That's where the issues may come in for more inexperienced fans, as it's a very different style than they might be used to. WRC 10 might take some getting used to, but it's a gorgeous racer that's got a ton to offer for those that dig in.