If you're a Quake fan, you're already having a great week thanks to the re-release. Well get ready for more because LRG has something special cooked up.
Collecting Quake
One of the coolest storefronts on the web, Limited Run Games specializes in exactly what their name suggests- small print runs. The games picked are typically digital in nature, and so the only place to get a physical disc or cart is via the retailer.
Once in a while too, they come out with a massive collector's edition. A big-box that's loaded with stuff, and just begging to have a place on your shelf. This would be one such occasion, as far as I'm concerned, as we're talking Quake here.
Fresh off of a re-release for modern consoles, ID Software's second (third?) baby is back in fine form. So of course it need a CE to reflect that.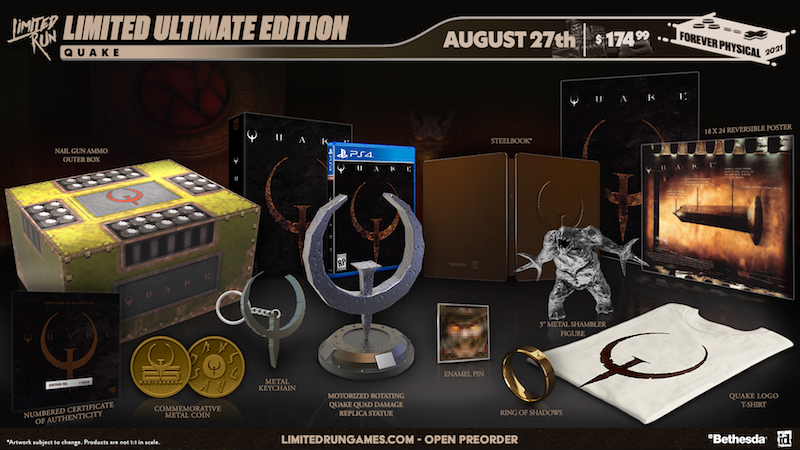 Yeah, that's your big boy right there. As you can see this CE is packed, and comes complete with a ton of goodies. The above is the "Ultimate Edition" though, and LRG will have a total of three different versions of Quake ready for pre-orders.
Here's what's included with each:
Quake Deluxe Edition (PlayStation 4, Nintendo Switch): $79.99

Quake Steelbook
18×24' Double Sided Poster
Metal Quake Logo Keychain
Commemorative Metal Coin
Deluxe Edition Box
Quake Ultimate Edition (PlayStation 4, Nintendo Switch): $174.99

Includes everything from the Deluxe Edition
Quake Logo Shirt
Ring of Shadows
Enamel Pin
3' Metal Shambler Figure
Commemorative Metal Coin
 Steelbook
18' x 24' Reversible Poster
Metal Keychain
Motorized Rotating Quake Quad Damage Replica Statue
Numbered Certificate of Authenticity
Nail Gun Ammo Outer Box
While none of the above are ready for pre-order yet, they will be soon enough. August 27th (at 10am eastern) is the date when you'll be able to plunk your PO down, with a closing of September 26th. Past that, it's pretty unlikely you'll be able to score one of these for yourself. So if you want to lock one up, make sure you get one while the getting is good.