From Insight Editions, The Art and Soul of Dune might be one of the most intriguing books ever made. How many books have a soundtrack?
From the sands of Arrakis
It's almost impossible at this point to not know that Dune is heading back to the big screen. Hollywood is once again taking a stab at the classic Frank Herbert novel, this time from director Denis Villeneuve.
Of course, as with most films these days, this one was meant to hit theaters a long time ago. Covid saw to multiple delays of that, though it's finally set to arrive on October 22nd. Fingers crossed. With that release date though, comes tie-ins.
We've already seen action figures, and there are collectible items on the way as well. But maybe the most impressive thing yet is this book from Insight Editions.
Offered in both standard and stunningly expensive limited editions, The Art and Soul of Dune is looking like a book that fans will want to check out. The tome was penned by none other than Tanya Lapointe, the executive producer on the movie itself. And as you might expect, it digs deep into the processes that went into the creation of this new version of the classic.
Here's the official rundown, as well as a short preview:
The Art and Soul of Dune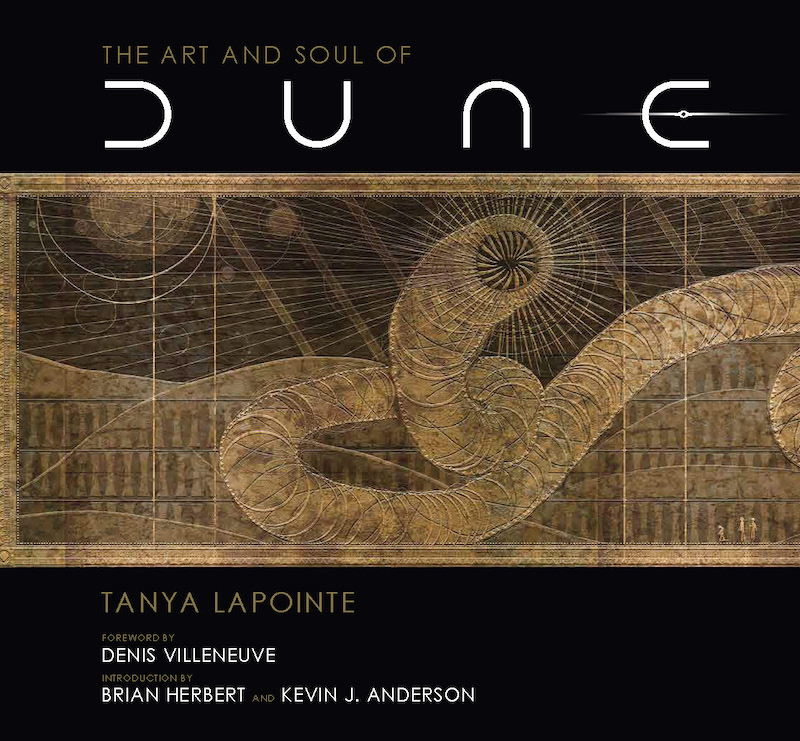 Written by Dune executive producer Tanya Lapointe, THE ART AND SOUL OF DUNE is a visually dazzling exploration of the filmmaking process that gives unparalleled insight into the project's genesis—from its striking environmental and creature designs to its intricate costume concepts and landmark digital effects. The Art and Soul of Dune also features exclusive interviews with key members of the cast and crew, including director/co-writer/producer Denis Villeneuve, stars Timothée Chalamet, Rebecca Ferguson and Oscar Isaac, and many more, delivering a uniquely candid account of the hugely ambitious international shoot.

Insight Editions
The Art and Soul of Dune: Limited Edition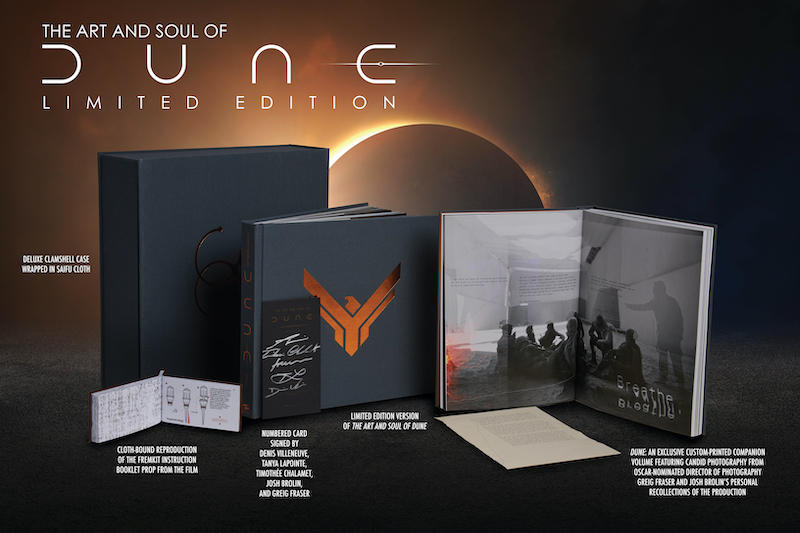 THE ART AND SOUL OF DUNE: LIMITED EDITION (exclusively available atInsightEditions.com) is a deluxe edition of the book. The book comes in an ornate, exclusive cloth cover, foil-stamped with the House Atreides and Harkonnen symbols. It contains an exclusive companion volume titled simply Dune, featuring the candid and intimate on-set photography by the film's Academy Award-nominated director of photography, Greig Fraser, accompanied by Dune actor Josh Brolin's personal perspective and recollections of the production. It also contains a unique, cloth-bound reproduction of the Fremkit instruction booklet prop created for the movie, featuring 80 pages of exclusive unseen art from the film.

Insight Editions
Both versions of the above will be out on October 22, day and date with the film. If you do want that Limited Edition though, keep in mind you'll have to order it through Insight.
So, what about that soundtrack?
Well, famed composer Hans Zimmer himself is handling that, just as he's done the music for the movie. Yes, an OST for a book. That's got to be a first.
This unique album—the first soundtrack Hans Zimmer has ever scored to accompany a book—is inspired by The Art and Soul of Dune, a chapter-by-chapter journey through Warner Bros. Pictures and Legendary Pictures' breathtaking film Dune from Academy Award filmmaker Denis Villeneuve. 

Insight Editions
The OST has a sign-up page, where you can be notified as soon as it's released. But the best part is that it's a freebie. That's right, no charge.