Editor's note: You can find my interview with Mike and Charlotte here where they talk about Black Halo in depth.
Black Halo is an album I never knew I needed to hear.
As Brutal Gamer's interview editor I have been able to meet people from all walks of life and tell their stories in a safe and positive space. To this day I still remember each person fondly, and I will always be grateful. Brutal Gamer is a video game publication but every once in a while we unapologetically break the rule to openly embrace the surprises that come our way. As an editor and person, this helps me grow which makes my writing and conversations feel more alive, real, and down-to-earth.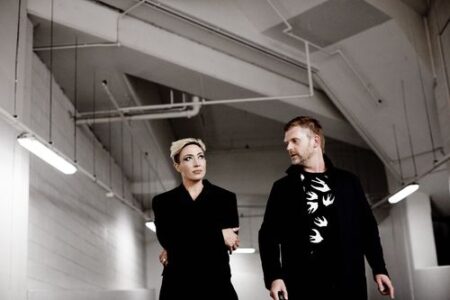 That's how Hybrid's latest album Black Halo makes me feel— alive, heard, positive, real. The ongoing pandemic has left us feeling confused, isolated, afraid, and maybe even angry at the government. I've experienced loss, sadness, isolation, depression, and a huge drain in my energy during this, so listening to Black Halo has been the healing-saving grace I needed. It's helped me rise like a phoenix from the ashes and get back on my feet— I'm living life again and happy.
Black Halo helps verbalize how we feel accurately without judgment. It gives us a voice when we can't or haven't been able to use our own. Emotions are messy and not always easily understood but Charlotte's beautiful vocals add comfort to the music and she makes you feel everything is going to be okay even if you've never met her.
I started listening to Black Halo from its last track: Sky Full Of Diamonds and I'm glad I did. I was in tears on the day I heard the song and within minutes I stopped crying. It reminded me of the positivity and hope in every situation. All we can do is put one foot in front of the other and live life for today. I loved this song so much that I included it as part of my morning routine while I took a bath. Here is part of the lyrics I want to share that made a difference to my well-being:
I'm not gonna worry about the future
I'm only gonna live life for today
I'm not looking back or over my shoulder
I know that I have learned from my mistakes
So throw open the windows
Beckon a new day, I won't let life pass me by
When the days are black I have to remember
There's a million diamonds in the sky
Once I heard those lyrics I felt a weight lift off my shoulders. Everything gets better even if it gets harder first— that's how we become wiser and can heal almost anything.
In contrast to Sky Full Of Diamonds which is upbeat and hopeful Truth From The Lies struck a chord within me as a journalist. I can't help but be alarmed by the news headlines as we've seen them as a source of fear during the pandemic, and even when we began to see the situation improve, there are still fearful headlines. Listening to Truth From The Lies made me realize that we don't need to buy into the fear. We can still be aware of how the pandemic is changing and getting better slowly.
Here is part of the lyrics:
For the one, for the few need to take your medication,
Swallow the news. Forget hope, forget the truth Don't need your opinion don't ask your point of view
Black Halo tells a unified story about inner and outer turmoil, hope, and overcoming the impossible— and even if you start listening to Black Halo from a single track, it doesn't fail to take you on your own journey.
Music - 92%
Lyrics - 95%
Black Halo is one of the most creative and real albums I've listened to in years. It takes you on your own personal journey but also captures how we have all felt towards this pandemic.