When Oddworld: Soulstorm first arrived in April, it had a few bugs to be worked out. Looks like this have been squished though for the physical launch.
Hello!
A game that had more than a few people eagerly awaiting it, Oddworld: Soulstorm nonetheless had issues upon its original launch. That was of the digital variety, as the game busted loose back in April for consoles and the PC. And, of course, those "issues" were bugs. Aplenty.
Nevertheless, we reviewed the game then, and found it to be excellent. Our critic who penned the review, Erich Martin, loved (almost) every minute of the game, and cited it as being everything he was "hoping for in a sequel to New N' Tasty."
Not ones to sit on their laurels though, Oddworld Inhabitants has been hard at work on Soulstorm, getting it as perfect as possible for its boxed retail editions. That day is finally here now, and the game has been "refined".
Players can expect way less in terms of bugs and a more finely tuned gameplay experience overall. This is the same version that's currently posted digitally too, so both flavors of Odd should be a sight better than the game was at first release.
One thing you can't get in on digitally though, is a collector's edition. And my oh my does publisher Microids have some excellent examples of those out too.
Collecting Odd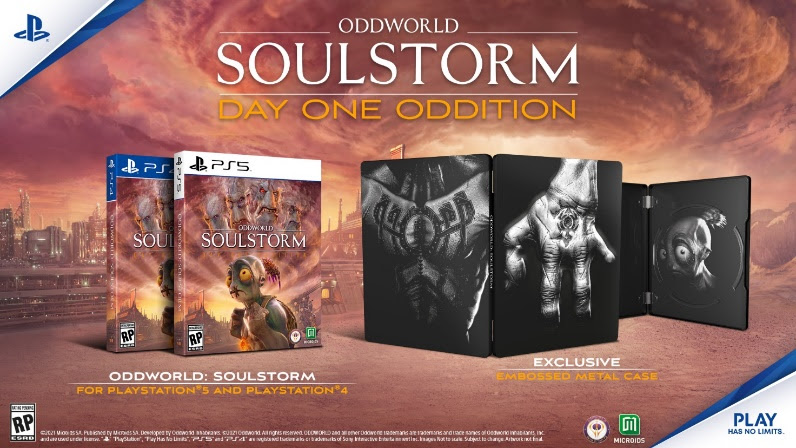 First, there's the Day One Oddition. That's the standard PS4 or PS5 version of Soulstorm, but includes a steelbook case, which are pretty popular with collectors.
Then there's the full Collector's Oddition.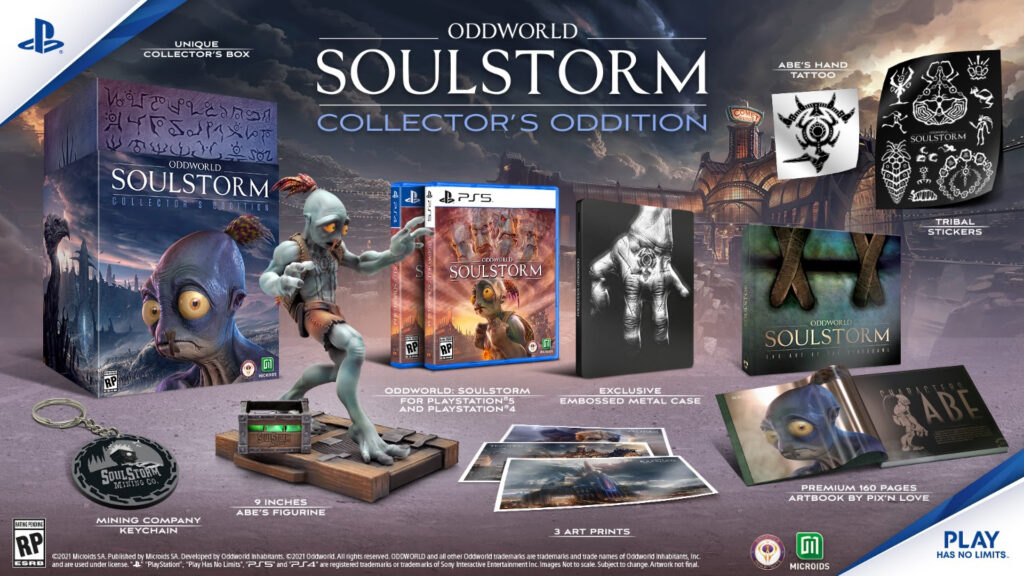 As you can see, it's packed. It's loaded with tons of extras, including that cool Abe statue. If you're a big Odd-ite, then you're going to want to think about this one.
Included is:
A Unique Collector's Box
Oddworld: Soulstorm's standard edition for PlayStation® 4 or PlayStation® 5
A collectible metal case
An exclusive 9-inch figurine of Abe, Mudokon hero
A premium 160-page artbook by Pix'n Love Publishing
An exclusive Mining Company keychain
Three art prints
Ancient Mudokon Tribal stickers
Abe's hand tattoo