Gamers tearing up the sand in Beach Buggy Racing 2: Island Adventure should get set for some new wheels. Fresh DLC arrives tomorrow.
Bingo
If you're not familiar with the game, Beach Buggy Racing 2: Island Adventure is a kart racer. Complete with over-sized characters and under-sized cars, the game comes out of Vector Unit and is just as bright and cartoony as you'd think.
It also looks to be surprisingly deep. The title offers way more than just races, as players can customize their karts, recruit teams of wacky characters, and even create their own rules for special races. There are also a monster 44 power-ups to make use of as you race, which is pretty incredible.
And now on top of all of that, it's also home to a set of brand new Hot Wheels vehicles. Landing for the game tomorrow is a pack of new rides, created in conjunction with Mattel.
The pack includes a 7 pack of karts, as well as a bunch more. Check out the full list of what's in the download: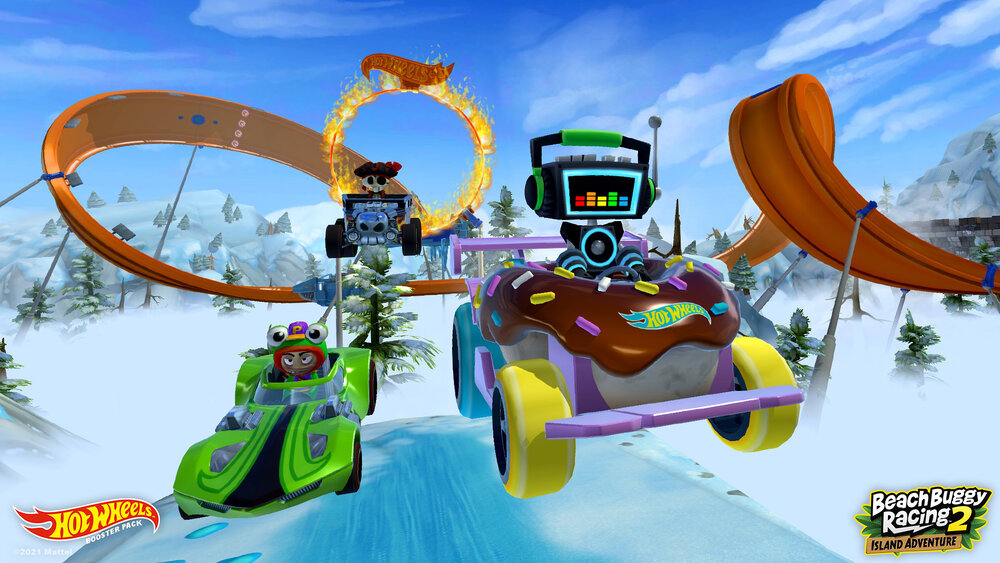 Seven legendary Hot Wheels cars: Rip Rod™, Surf 'N Turf™, Bone Shaker™, Twin Mill™ III, Donut Drifter™, Hotweiler™ and Loco Punk™.
Earn trophies in the new Hot Wheels Championship.
Go for Gold on four thrilling Hot Wheels-themed tracks: Volcano Blast, Hot Wheels Harbor, Looptastic Stadium, and Frostfire Vale.
Five new Hot Wheels Cup events added to the Adventure map.
A new Hot Wheels Stunt Challenge added to every track in the game. Discover them all in 1000HP Race mode.
Six new Achievements to unlock.
The Hot Wheels Booster Pack for Beach Buggy Racing 2: Island Adventure is available tomorrow, May 12th. The game itself is out now on the PS4, Xbox One, Switch, and PC.