Batterystaple Games brings us 30XX, and it's a familiar feel of a game – and to be honest, it's hard to put down!

Once More…
30XX is a sequel to 20XX from 2014, and you can tell the gang at Batterystaple have done their homework. The visuals are spot on! If I hadn't seen the loading screen when I began the game, I could have been misled to think I was playing a new Mega Man game. That really spoke to me. I could get down on them for being derivative, but the truth is, this is the first game – in a long time – that I've willingly played through multiple times, racked up collectibles and wanted to see just how far I could push myself. Now I'm no speed-runner, but I have certainly tried! It doesn't always work out well for this gamer.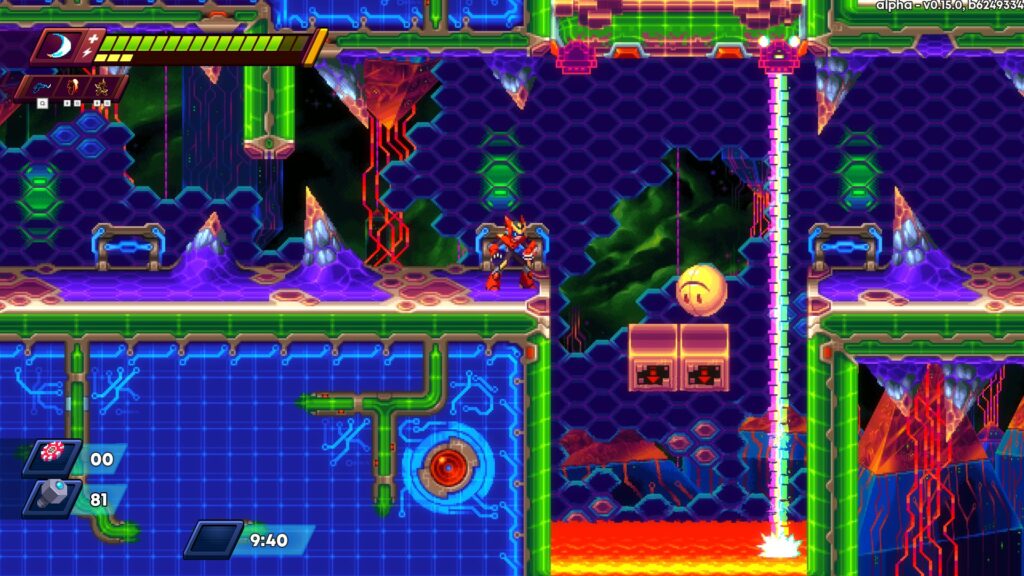 Design
The level design is impressively varied, even at the early stage of my review. Six of Eight levels were unlocked, and the themes could not have varied more. Futuristic aviary to Eastern Jungles, and even some flying priests made sure that my progression was not an easy one.

I find myself watching the update notices to see what has changed, which is unusual. I have seen full level redesigns, each level has a 'bonus zone' which gives you an optional track for an extra core augmentation or weapon. For the pet lovers, I've even seen an in-game pet receive an interact option.
My best laugh however, was in the second level. I had high enough jumping skills and health that I could explore a bit of the harder to reach areas. So I got past the spikes on the wall, and continued to scale – only to receive on-screen comments of 'Go Back', 'Turn Around' and 'The Boss Is Down There'. I couldn't help myself but laugh as I let go of the jump button and plummeted back to the regular course.
The one enemy that is typical across the levels is a color-swapped bat-like creature, which feels a bit repetitive. Not terribly, just that I will be curious to see if they swap them out as they finalize the other levels.
Options
One nice detail in 30XX is that you can pause and swap out which cores you have activated in your suit. Maybe your double jump isn't helping here, and you want to activate a hover jump. A quick switch can make a world of difference in the game. How about the weapon you've got? The blade may be nice, but a long-reaching polearm can be quite helpful in the right situations. I've found a few weapons, and am curious to see what else is available.
So, you've gone through the game, beat your share of bosses, and starting to see what else you can pull off. The designers had you in mind for this. There is an entropy section for just such occasion. Did you receive too many powerups? You can turn those down. Were the enemies or bosses too easy to beat? You can spend points to turn these details up to your liking. No one ever said the game had to be easy!
Final Thoughts
I admit I had my reservations when this game through, but once I got into it, and got a feel for the gameplay, which didn't take long, I was hooked. I really can't wait to see what the remaining levels look like, how they play, and what sort of wacky bosses they still have in store. If you're one who's on the fence about 30XX, let me put any hesitation to rest: this is a game you want to grab!
Futuristic Fun
Style - 92%
Gameplay - 90%
Replayability - 93%
With an ample choice of powerups, cores you can swap, and even entropy options, there's no way you can't find yourself having a good time playing 30XX!