Marvel Comics is planning a dark Holiday, with a December launch for King in Black. The symbiotic epic will bring on Knull with a series of tie-ins.
Knull and void
So finally, at long last, Knull is going to show up in the Marvel U. From writer Donny Cates and artist Ryan Stegman, the story that brings the "god of the symbiotes" to the fore will revolve around not just Venom, but also a cadre of Marvel mainstays. Oddly enough though, there's no Spider-Man book mentioned in this preview.
We do know that the webhead will be in the tale, since he's on the cover of King in Black #2 (seen right here in this story). All the same though, there's no specific Spidey comic named in the list of tie-ins. Kind of interesting since he's been a constant in symbiote stories.
Anyway, on to the good stuff. And by that, I mean the devastation that Cates and Stegman are planning.
From the press release: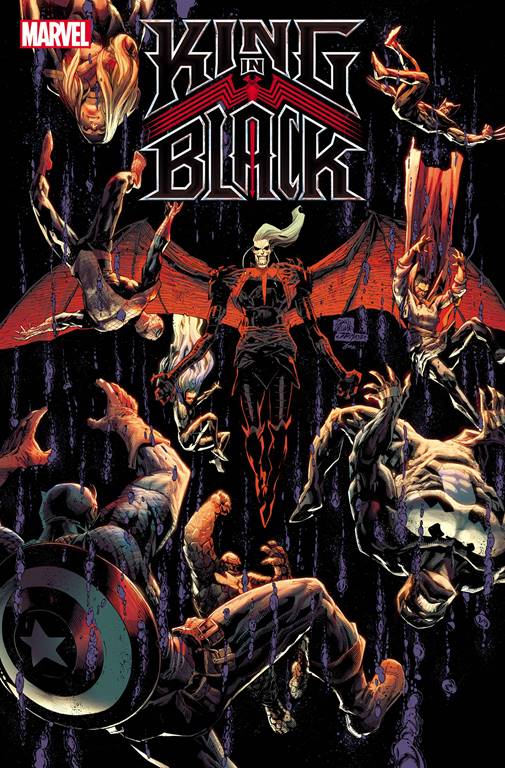 Eddie Brock has already seen the chaos that Knull will bring firsthand in the pages of VENOM, but he won't be facing him alone. Knull's unrelenting darkness will enshroud every corner of the Marvel Universe in various titles debuting this December! This past week saw announcements about new titles and tie-ins showcasing how Knull's unrelenting darkness will enshroud every corner of the Marvel Universe! Bruce Banner will have to fight through a planet of symbiotes in KING IN BLACK: IMMORTAL HULK #1by writer Al Ewing and artist Aaron Kuder; writer Christopher Cantrell and artist Salvador Larroca will celebrate Knull-mas with a twisted yuletide tale of unlikely allies in KING IN BLACK: IRON MAN/DOCTOR DOOM #1; and Kurt Busiek, Ben Dewey, and Jonas Scharf's KING IN BLACK: NAMOR #1 offers a deep dive into Marvel history to learn about Knull's chilling connection to Atlantis. KING IN BLACK will also tie-in to ongoing titles such as SPIDER-WOMAN #7 by Karla Pacheco and Pere Pérez and the new BLACK CAT #1 by Jed MacKay and C.F. Villa. You also won't want to miss Eddie coming face to face with the lord of the abyss for the first time in VENOM #31, written by Donny Cates with art by Iban Coello.

King in Black press release
As for those tie-ins, here's the list that'll start things off:
KING IN BLACK #1 (OF 5)
KING IN BLACK #2 (OF 5)
VENOM #31
BLACK CAT #1
KING IN BLACK:  IRON MAN/DOCTOR DOOM #1
KING IN BLACK: IMMORTAL HULK #1
KING IN BLACK: NAMOR #1 (OF 5)
KING IN BLACK: NAMOR #2 (OF 5)
SPIDER-WOMAN #7