The latest in Dark Horse's long line of video game-related art books, Resident Evil 7: Biohazard Document File hits stores this December.
Evil rises
By now, Resident Evil fans should know the immediate path that the series will be taking. Rolling on from remakes of RE2 and 3, the eighth game in the set is preparing to take players back into the storyline from RE7.
Starring Ethan (RE7's hero) and series regular Chris Redfield, Resident Evil: Village looks to be a creepy continuation of the horror that took place in that last game. And for fans who relaunched their obsessions with the series thanks to Biohazard, Dark Horse has a book for you.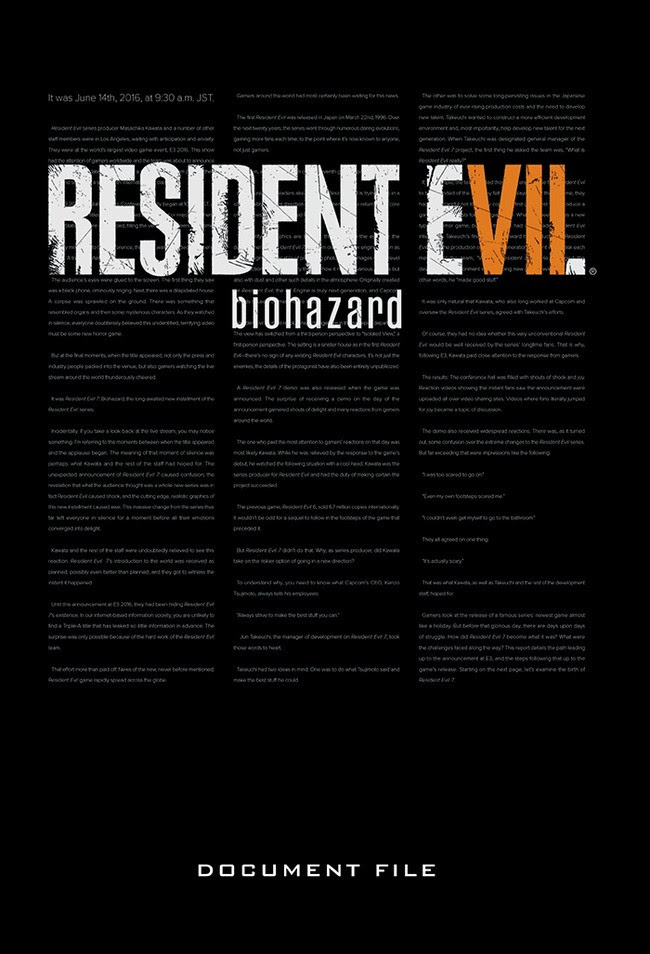 Officially titled Resident Evil 7: Biohazard Document File, this new book actually isn't new at all. It's actually a translation, presented for the first time for western audiences.
Relive the terror of Resident Evil 7: Biohazard, the expertly crafted first-person survival horror game that altered the paradigmof Resident Evil titles. This oversized, hardcover art book includes undisclosed concept art and CG visuals closely arranged and coupled with detailed passages of the development team's progress on the game. Explore interviews, photo albums, a storyboard collection of in-game event scenes from opening to ending, and more in this succinctly packed chronicle of Resident Evil 7's development.

Dark Horse
Running a total of 152 pages, Resident Evil 7: Biohazard Document File will be landing in stores this December the 8th. You can secure your copy now of course, as pre-orders have begun via Amazon, Barnes & Noble, and your local comic shop. The book will run you $29.99 USD.