If you missed picking up a figure of Groot from Marvel's Guardians of the Galaxy, you're going to like the latest Marvel Legends set.
I am…
Voiced by Vin Diesel, Groot became a fan favorite in notice flat thanks to Marvel's Guardians of the Galaxy movies. That's a relatively new phenomenon, since Groot has been around for a while, but was never all that popular. That says just how big director James Gunn's films have become.
With the success of course, came some Marvel Legends action figures. Hasbro's toy line has had a few over the years, including a set of three that are getting a re-release this fall.
The set includes three different versions of Groot, all from the films.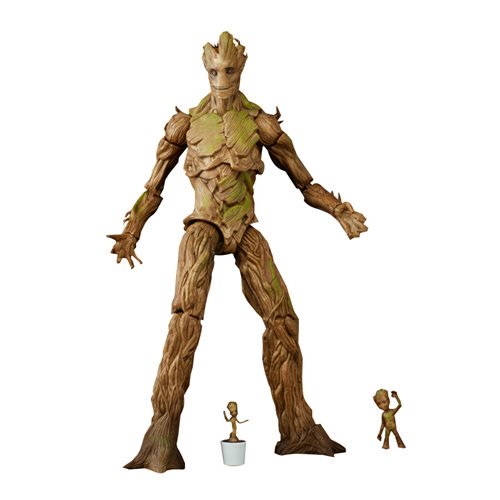 Featuring 3 Groot figures with movie-inspired design and detail, the Guardians of the Galaxy Marvel Legends Groot Evolution Action Figures Set – Exclusive is an epic addition to any collection of legendary heroes. Groot gets a growth sprout – er, spurt – with this Groot Evolution 3-pack from the Marvel Legends Series, featuring 3 Groot figures in 3 different sizes. Imagine giving the galaxy something to root for with the 9-inch Groot figure, modeled after Groot in his adult form. Then, pretend to meet Groot as just a sapling with the included a pair of 1-inch Groot figures, which stand as reminders that inside every tree there is… an even smaller tree. From potted prodigy to towering tree-like humanoid, Groot uses powers of regeneration to become a legendary defender of intergalactic justice.

Entertainment Earth
The above figure set is set to ship out this September, and will run you $21.99 USD. You an order it right from our pals at Entertainment Earth (right here). As usual, if you do BG will get a small commission from your purchase.