Seres 2 of Doom Eternal's earnable content has arrived, and it brings some coffee-centric (and more) cosmetics and unlockables.
Hipsters on Earth
While Doom Eternal is packed with action, horror, demons, and gore aplenty, it's also got quite a bit of fun in there. And I mean that in terms of intentionally silly/goofy moments.
You know the ones if you've been playing; like when you Glory Kill a Cacodemon and his eye makes a 'pop', or you find a 'toy' version of one of the game's baddies. Well add another to that list with the "hipster" Arch-Vile. And it's all thanks to the Coffee & Camo pack.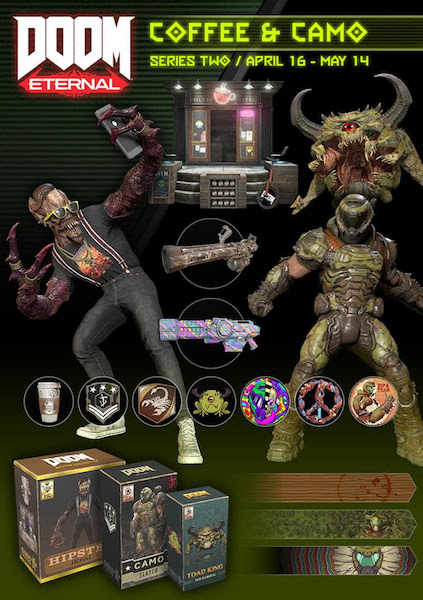 A new event that's currently running in Doom Eternal, Coffee & Camo includes a fresh selection of unlock able content that's 100% earnable. By that, Bethesda means you can't buy this content with real-world money. This is all stuff that you can earn in-game, just by playing the campaign and Battlemode, or completing weekly challenges.
So when's this good until and what's included? Well…
From now until May 14, players can earn XP to unlock brand-new weapon skins, icons, nameplates and even cool player skins. Among those skins are the noble Toad King Pain Elemental skin, the elusive Camo Slayer skin and – the holy grail – the demonic coffee shop-frequenting Hipster Archvile Master Collection.

Bethesda