Old school Image Comics fans take note, Spawn figures are back. Todd McFarlane's superhero has hit Kickstarter for a line called Masterworks.
Posable Hellspawn
It's been a while since we've seen a true line of Spawn action figures. Sure there were the Color Tops figures from a few years back, but let's be honest, those weren't great. We got a few different versions of Spawn himself and they were just barely posable.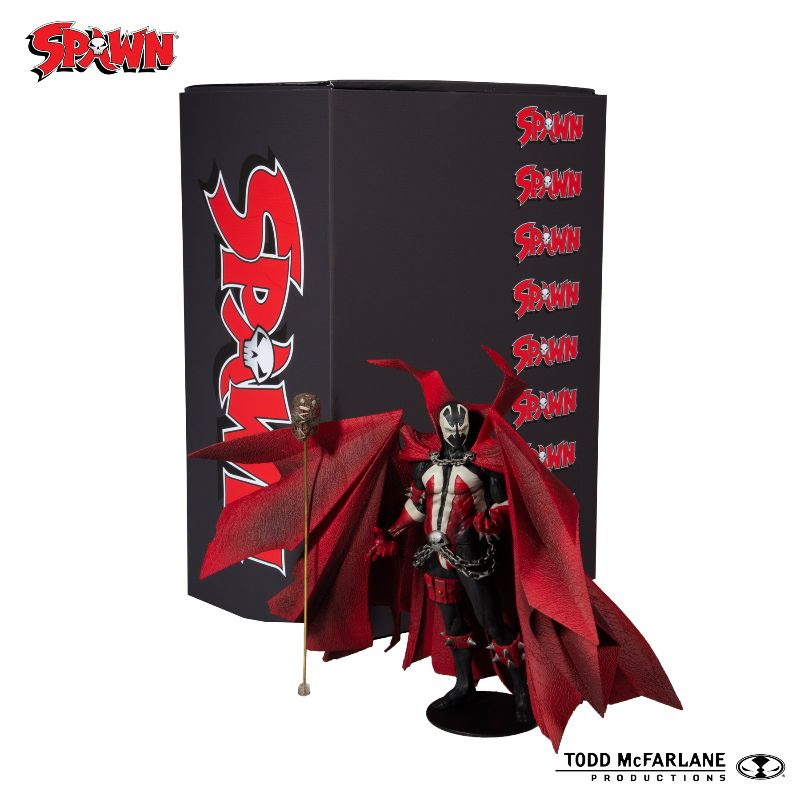 Well, flash forward a few years and creator Todd McFarlane has Kickstarted a whole new era of plastic Spawn. While we've already gotten a Mortal Kombat 11 Spawn figure, fans now have a true comic-based version to look forward to. A few actually.
We first mentioned this crowd-funding campaign at Toy Fair in February, but now it's here. And yes, it's looking pretty awesome.
The campaign launched yesterday, and is already funded many times over. It offers a trio of Spawn figures, complete with bonus items like extra heads. There's a real hook to this too, in that this is being billed as a "remaster" of the 1995 original action figure.
If you're a fan from that time, then you know what that means – huge folding cape and all. Only this time, the new 7″ Al Simmons is looking a hell of a lot cooler. And he comes complete with "more than double" the amount of articulation as before.
Yeah, the image you see here is just a placeholder. This bad boy is going to have plenty of posability.
Spawn returns
"As an artist and a creator, I have worked to evolve my creations to the highest artistic level achievable.  I'm going back to the beginning of the first Spawn Action Figure and Comic I ever created.  It will be remastered and modernized with all the skill sets, details, and technology that I have learned over the past 26 years to bring you the best version of that iconic Spawn Action Figure and Comic from 1995," said Todd McFarlane, Spawn creator and legendary artist. "It's an honor that Kickstarter is creating a new toy section on its platform and debuting it in conjunction with the first-ever Spawn Kickstarter."

Todd McFarlane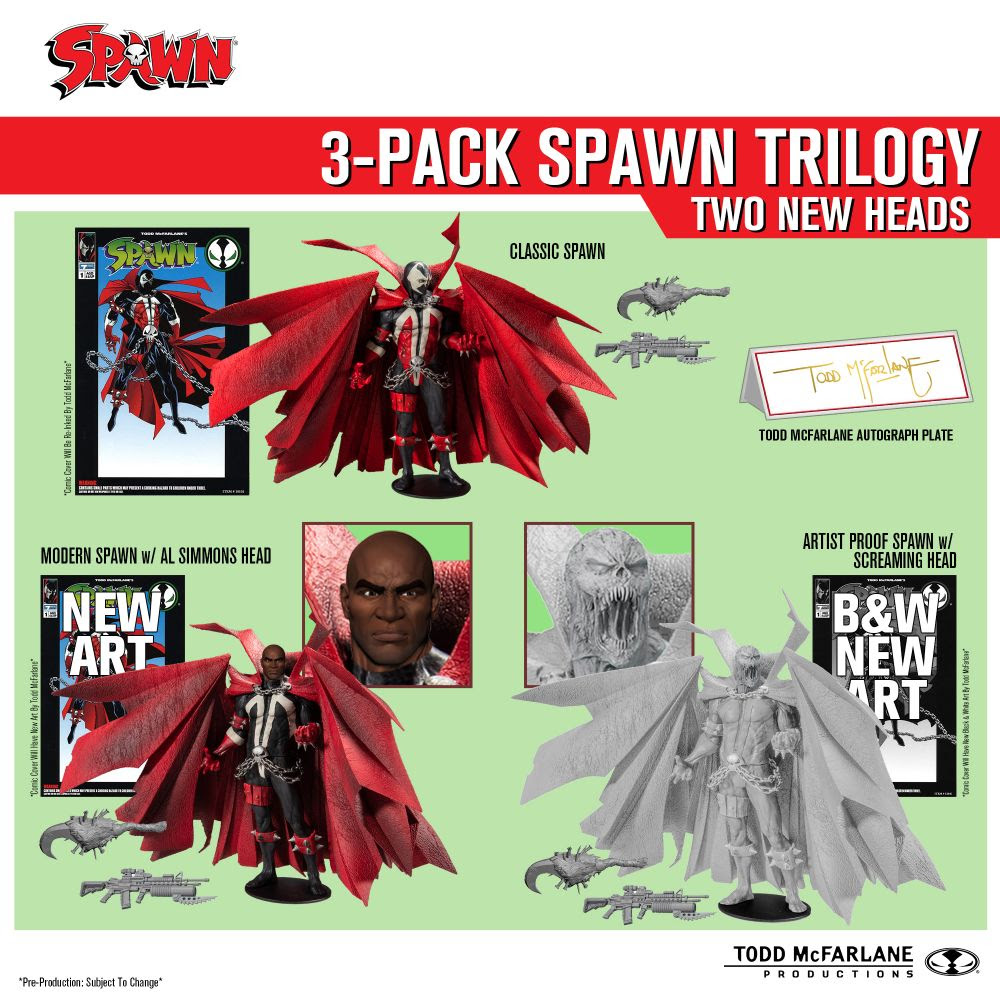 In all, the figure will come complete with the original pack-in comic, though in remastered form. McFarlane himself will be providing a brand new cover for the book.
Add to that a collector-friendly resealable box. That allows you to take Spawn out and display him, but then put him right back if you so desire. All of that makes for a pretty slick offering. And as mentioned, there are three tiers, with a fourth that brings them all together.
Tiers of Hell
Check out the below for how the tiers break down:
To simplify this offering, there will be only four levels: A CLASSIC costume version. A MODERN costume version (with new head), an ARTIST PROOF (what we're calling the 'black & white), and lastly, the 3-PACK bundle which will include a Classic, Modern and Black & White figure. The latter two figures are getting new head sculpt! The first three levels will be offered with or without an autograph while the 3-Pack will only be offered with an autograph. And each of the single figures will have a NEW never-seen-before cover remastered by Todd McFarlane himself. The backing levels range from $40 to $160 based on the offerings.

Todd McFarlane Productions
Now, I did say "a whole new era of plastic Spawn" earlier in this article. There's a reason for that, even though all you see here is the main man himself.
Back at Toy Fair, McFarlane had the entire initial series of 1995 Spawn figures on display underneath the proposed Kickstarter figure. The implication there being that there will be an entire rebirth for these, all of them done in remastered style.
So stay tuned Spawn fans. This could be just the beginning for the heroic hellspawn. For now though, you can check out the Spawn Masterworks Kickstarter, and buy in, right here.