Mezco Toys' One:12 action figure line is getting wild. The highly articulated series of collector figures is getting Dr. Zaius, from Planet of the Apes.
Just imagine the song from Simpsons
Yes, we all know the meme, but Dr. Zaius is truly a classic sci-fi (?) film classic. The character, hailing from the 1968 Planet of the Apes movie, was a member of the Ape National Assembly and Chief Defender of Faith.
He was also, as I remember it, not very nice. And now he's ready to glare angrily at the more human action figures on your shelf. Or at least, he will be come this Holiday Season.
Dr. Zaius is set to ship sometime from October to December of this year, and will come complete with an assortment of accessories and a PotA-branded stand.
Scroll down to check out all that'll be in the box, or click here to secure a figure for yourself. Dr. Zaius will run you $85 USD.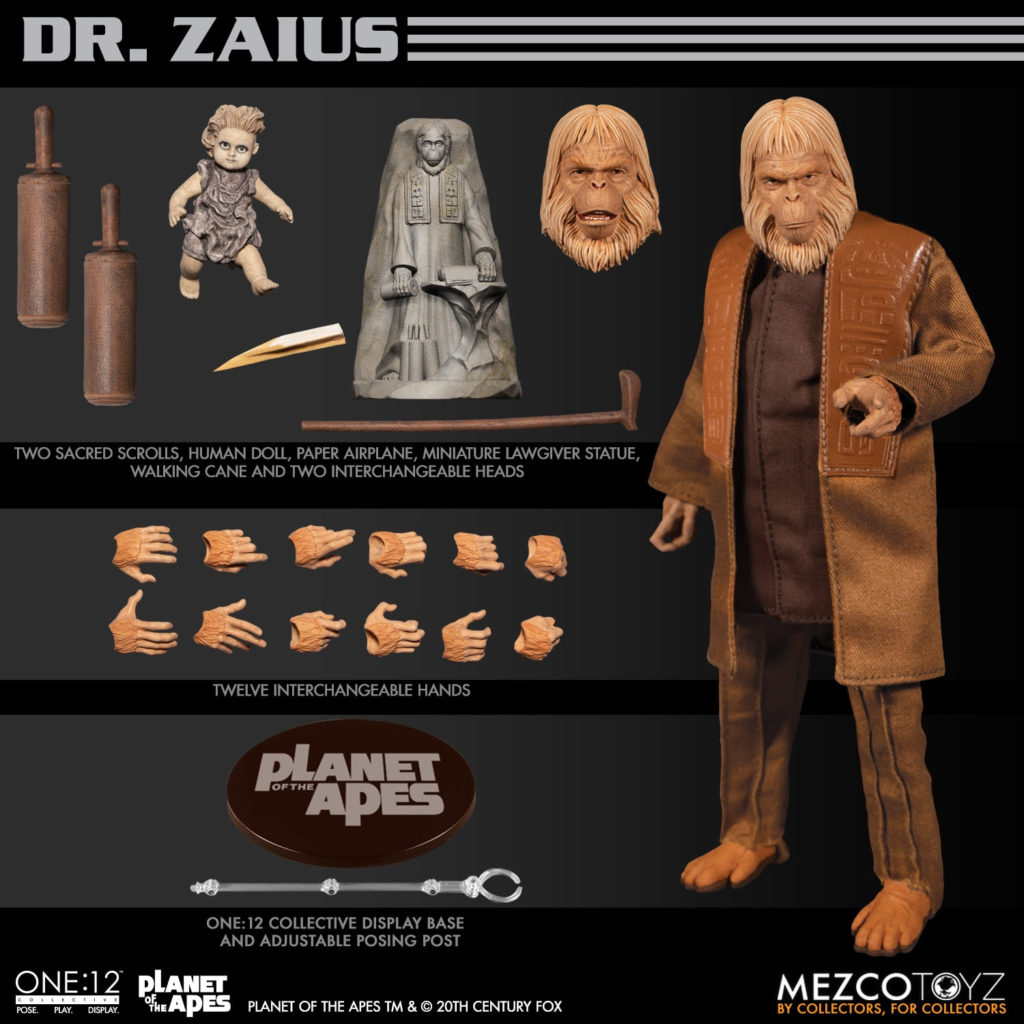 THE ONE:12 COLLECTIVE DR. ZAIUS FIGURE FEATURES:
One:12 Collective body with over 28 points of articulation
Two (2) head portraits
Hand painted authentic detailing
Approximately 16cm tall
Twelve (12) interchangeable hands including

One (1) pair of fists (L & R)
One (1) pair of pointing hands (L & R)
One (1) pair of holding hands (L & R)
One (1) pair of posing hands pointing hand (L & R)
Two (2) pairs of open hands (L & R)
COSTUME:
Tunic shirt
Overcoat with embossed detailing
Pleated pants
ACCESSORIES:
One (1) human doll
One (1) paper airplane
One (1) miniature Lawgiver statue
One (1) walking cane
Two (2) Sacred Scrolls
One (1) One:12 Collective display base with logo
One (1) One:12 Collective adjustable display post