He-Man and the Masters of the Universe is making a major comeback in just about every way, and now you can add scaled replicas to the list.
I have the power!
Movies, animation, comics, action figures, and now replicas, Masters of the Universe is seriously back in a very big way. Mattel's He-Man will be just about everywhere in the years to come, though this might be the most impressive non-entertainment announcement yet.
The toy giant has licensed the MOTU IP out to Factory Entertainment. You might know them from various statues, paperweights, and replica items, as we've reported on a bunch over the years.
What they'll be doing for MOTU is crafting "scaled prop replicas", KUZOS™ Collectible Metal Miniatures, and life-size replicas of the most iconic weapons from the world of Eternia. That includes He-Man's classic Sword of Power, but also Skeletor's own blade, and the legendary Havoc Staff.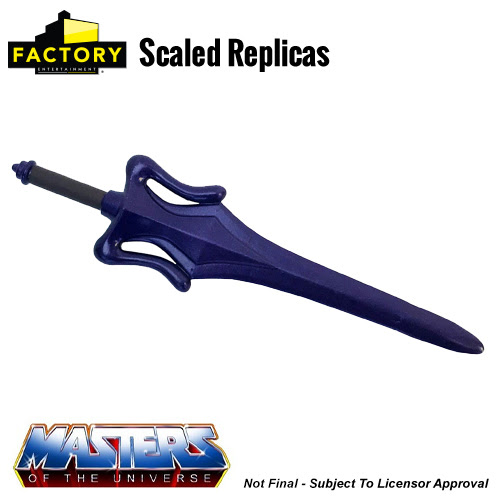 "We are delighted to be partnering with Mattel to create new Masters of the Universe collectibles," said Jordan Schwartz, President and CEO of Factory Entertainment. Added Tom Vargas, a Product Developer working on Factory's Masters of the Universe line, "I personally cannot wait to raise a Power Sword replica above my head and shout the iconic line, 'By the power of Grayskull!'

Factory Entertainment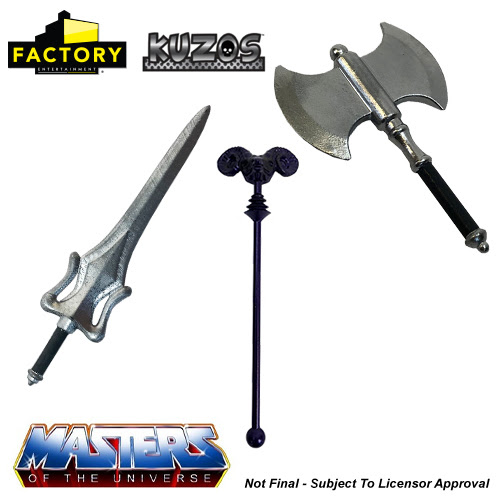 While there's no pricing on any of this just yet, we do know that Factory will have their Masters offerings up for sale some time this summer. You'll be able to buy them from both the company's official website, and "various online and brick and mortar retailers".
They'll also be showing at Toy Fair this weekend, so expect some (hopefully in-hand) pictures to show up right here on BG.