Move over WWE, upstart wrestling federation AEW is getting a line of figures from the Fortnite toy company, Jazwares.
Ring the bell
It has been a seriously long time since there was a viable alternative to WWE, let alone WWE action figures. Seriously, when was the last time there was a competing line of figures to go up against Mattel's line? Toy Biz' WCW maybe?
As great as Mattel's selection has been over the last few years, competition is always a good thing, and that looks like exactly what's on the way thanks to Jazwares. With the Fortnite license, Jazwares has made an impressive showing for itself recently, and they don't look to be slowing down.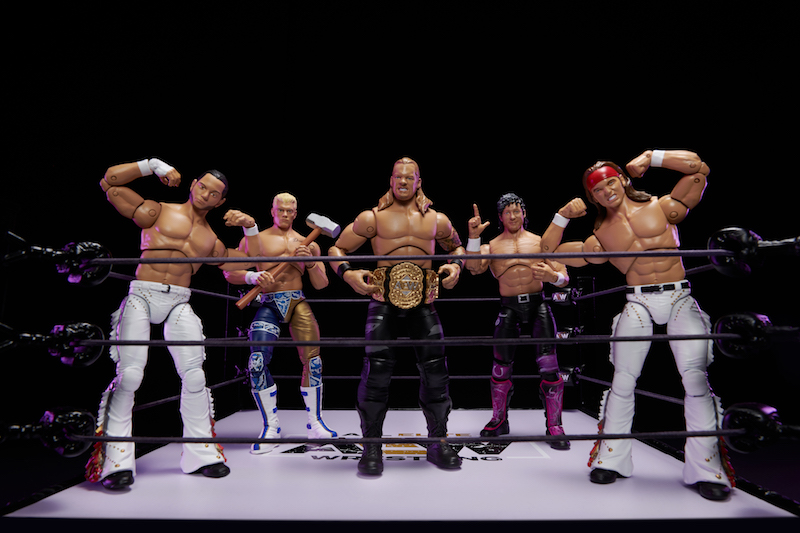 "AEW has very quickly become one of the most provocative, engaging and relevant wrestling brands of all time.  It is a league embraced by generations of fans and collectors in a genre with a huge appetite for authentic product," said Jeremy Padawer, EVP / Partner Jazwares.  "We plan to build out the kind of program that can appeal both to the display collector and also to younger fans who want a tangible way to play and interact with their heroes," said Michael Rinzler, EVP / Partner Jazwares.

"When AEW launched just over a year ago, we couldn't have imagined there would be a toy line this soon, featuring our wrestlers, making its debut at Toy Fair in New York City," said Dana Massie, Chief Marketing and Merchandising Officer.  "But, we've always known from the start that we have the greatest fans in the world, and we're constantly looking for new ways to positively engage and connect with them in ways that matter.  Our partnership with Jazwares ramps up our commitment to fan engagement, and we hope our fans will love the AEW action figures and collectibles representing the personalities who have become part of their lives each Wednesday on TNT, at our pay-per-view events and beyond."

Jazwares
Building a roster
Jazwares' just-announced line of AEW figures is looking terrific. The figures sport "real 3d scanned likenesses", 25 points of articulation, lots of accessories, and accurate ring gear.
Called AEW Unrivaled, the line has so far been announced to include:
AEW World Champion Chris Jericho
Cody
The Young Bucks
Kenny Omega
Jon Moxley and more
Lest you think that's it though, stay tuned. The company says that future waves will be equally packed with AEW talent. The likes of "MJF, Darby Allin, Dr. Britt Baker, Brandi Rhodes, Hangman Page, Jurassic Express and many more" have all been mentioned.
Jazwares says that they'll have "multiple Waves per season" of AEW's TNT network show, AEW Dynamite. So it sounds like those looking to fill out a shelf will definitely be able to do so. In addition to the figures, fans can also expect a ring playset to display their collection in, as well as an AEW World Championship Title Belt.
Look for all of the above to start hitting stores some time in the fall. Jazwares will be at Toy Fair this coming weekend however, as will we. So we'll hopefully have lots more pics for you next week.