Spider-Man is getting another One:12 figure from Mezco, this one targeted squarely at MCU fans. Yes, the Night Monkey is on the way.
Stealth Spider
If you saw Spider-Man: Far From Home, then you know about "Night Monkey". Actor Tom Holland's Peter Parker dons an all black suit at one point in the film (no, not that all-black suit), queueing up the sorta tongue in cheek name. Officially, it's called the Stealth Suit.
Up to now though, we haven't seen that suit translate into the excellent One:12 Collective from Mezco Toyz. As you can see though, fans will be getting an adaptation, and it's a pretty great looking figure.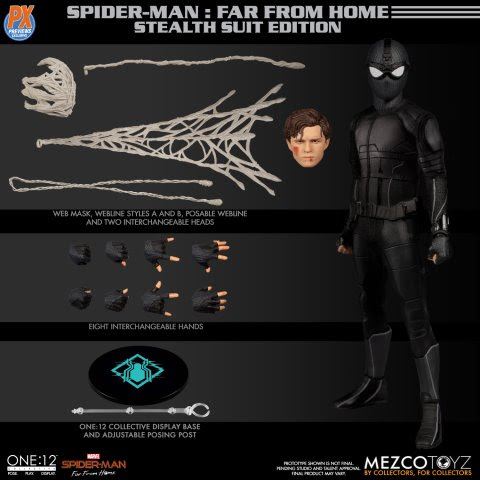 Complete with an alternate beat up "Tom Holland" likeness and a bunch of cool webbing effects, the 6″ scale figure nicely replicates the black suit seen in the film. It's also set to be exclusive to comic and specialty shops.
That basically translates into meaning that it's going to be carried by comic shops and online stores like Entertainment Earth. Speaking of, it's actually pre-orderable right now at EE. And of course, if you do order from them (via this link), BG will get a small commission.
As for the figure's release date, well it's still a ways off. Don't expect to see Stealth Suit Spider-Man till September 2020.