Online aRPG Dauntless hits the Switch this week, along with The Talos Principle and an assortment of other indie titles.
Online battling
I can't say I'm familiar with Dauntless, but you might want to take a look if you're into action-RPGs. A free-to-play (yes, I know) title, this game sets players to work in an online world, and up against beasts known as Behemoths.
If that's not your bag though, you might be interested in the puzzle game known as The Talos Principle. The deluxe edition of that game should keep you busy for a while, with 120 puzzles to solve.
Additionally, a demo for Blasphemous also arrives this week, along with Jamestown+, the arcade classic FROGGER, and more.
Nintendo eShop on Nintendo Switch
Dauntless – Join millions of players in Dauntless, the fastest-growing online* action-RPG, and explore a massive, free-to-play online world. Stand together and slay Behemoths with your friends from all over the world with true cross-play. Plus, Nintendo Switch players receive an exclusive Skyfighter Armor and Skymetal Weapon set. Live for the hunt!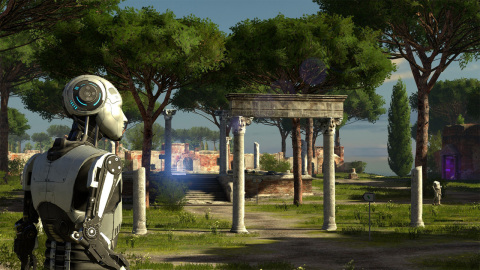 The Talos Principle: Deluxe Edition– Tasked to solve a series of more than 120 complex puzzles, players will divert drones, manipulate laser beams and replicate time to prove their worth. Explore increasingly complex puzzles woven into a metaphysical parable about intelligence, free will and meaning in an inevitably doomed world.
Nintendo eShop sales:
Nintendo eShop on Nintendo Switch, Nintendo 3DS and Wii U
Activities:
There's Still Time to Enter the My Nintendo Holiday Sweepstakes for a Chance to Win a Nintendo Switch or Nintendo Switch Lite System! – Each day, from Dec. 12 to Dec. 14, My Nintendo members can enter the My Nintendo Holiday Sweepstakes for a chance to win a daily prize pack, plus a chance to win a Grand Prize Nintendo Switch prize pack.** To enter, simply visit https://happyholidays.nintendo.com/. You can enter once per day, so be sure to come back for more chances to win!
Redeem My Nintendo Points to Get a Seven-Day Trial for Nintendo Switch Online* – Get ready for online play with your friends and family. Redeem 100 My Nintendo Platinum Points*** and enjoy Nintendo Switch Online for seven days! Offer ends Jan. 31, 2020 at 9 a.m. PT.
Also new this week in Nintendo eShop on Nintendo Switch: