One current indie gem and one classic combat racer land on Limited Run Games this week with Blasphemous and Jak X: Combat Racing.
Time to get limited again
Limited Run Games is a bastion for those who prefer physical editions of games to digital. The company has been pressing indie games and classics alike to Blu Ray and cart for a while now, and it continues to stock some true gems.
Of course, the issue is that most of their offerings sell out fast. That's particularly true of the collector editions they post, but more on that in a second. This week's general sale kicks off this Friday at 10am EST with a second chance at 6pm.
Jak X: Combat Racing will offer both a limited edition and a standard version, with a few more goodies coming up as well. The game will also feature in a new LP hitting on Friday too, as well as a poster.
Jak X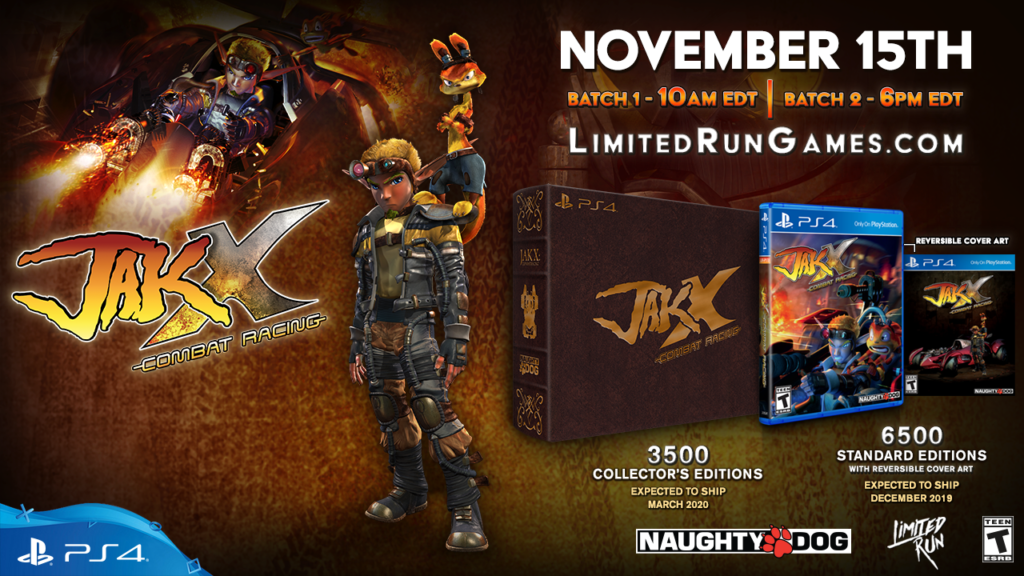 Jak X: Combat Racing gets a limited Collector's Edition. Pre-orders are this Friday, November 15 on limitedrungames.com. Included in the CE is a 3″ Daxtermobile diecast race car, a Jak X design bible, an official 2-disc soundtrack, and more!

Limited Run Games
Released in collaboration with Sony Interactive Entertainment and Naughty Dog, this 2LP compilation—on Jak Yellow and Daxter Orange vinyl—features 24 tracks hand-selected by composer Josh Mancell from Jak and Daxter: The Precursor Legacy, Jak II, and Jak 3. The gatefold jacket features original art by Collin Daniel Schlicht.
This official Jak and Daxter poster was designed by artist Jin Yung Kim. Printed on 13-point matte paper and measuring 18×24 inches – this image features many of your favorite characters from Haven City and beyond!
As for Blasphemous from Team17, there's a little less, and yet a little more. There will only be standard and collector's versions of the game itself, with no posters or records for sale along with it. The CE for it however, is looking pretty special.
There's ton of stuff in the box for this one, including a mini version of the main character's sword, a soundtrack, and an art book. It's packed. The sale options for Blasphemous are also a little different than usual.
The standard physical release has a two week window instead of just the one day. So if you can't order this Friday, you'll still have a while to get that pre-order down.
As for the CE though, that's business as usual – 10am and 6pm EST windows, this Friday only. And from the looks of it, it's gonna be out of stock pretty fast.