The season rolls ever onward towards the Christmas holiday, and Numskull has a gift section ready for giving… and getting. Check it out and get your list ready.
The most wonderful time of the year
We've reviewed a few things from Numskull over the last year, and found most of it to be excellent. From mugs to hats, the apparel and accoutrement maker has a good idea of what's cool, and makes plenty of stuff that the average gamer should dig.
So of course, they seem to be a pretty great fit for this looking to give this Holiday Season. And also of course, if you're forging a list of your own, and want to get a few things too.
Though it's only the first week of November, we've got a list direct from the company to share. It's one packed with goodies, from the aforementioned to some incredible looking mini-arcade cabinets.
Have a look, and maybe also bust out that pen and paper.
Christmas sweaters – geeky, official, 100% knitted festive–wear
Numskull recently revealed its range of official, knitted Christmas sweaters for 2019! Based on Spyro the Dragon, Star Wars, The Beatles, Marvel, Batman, Harry Potter, Xbox, Ghostbusters, Gremlins, Fallout, and more, there really is one for everyone!
 
Available in sizes 2XS – 4XL (UK), these are premium quality knitted sweaters ideal for fans of their respective franchises – and perfect to gift to your friends and family.
 
On sale worldwide now at Geek Store, Amazon, and local retailers
RRP £39.99 (UK) / €39.99 (EU) / $39.99 (US)

Numskull
TUBBZ – Cosplaying Duck figurines

Introducing TUBBZ, the official range of collectable cosplaying ducks! Based on all the biggest video game, movie, TV show, and comic book series, these are high quality figurines taking a unique approach to truly iconic characters.
 
With 4 in each brand set and many to collect, your TUBBZ duck figure comes in a collector's bathtub display box, with the ability for boxes to stack on top of one another. These are an ideal quirky gift for fans!
 
Borderlands, Crash Bandicoot, Spyro the Dragon, Fallout, Destiny, Skyrim, Street Fighter, and The Lord of the Rings sets will be available for Christmas (more coming in 2020).
 
On sale now worldwide at Geek Store, Amazon, and local retailers
RRP: £12.99 (UK) / €14.99 (EU) / $12.99 (US)

Numskull
Quarter Arcades – ¼ scale playable arcade replicas
Build your own miniature arcade at home with the Quarter Arcades line-up of fully playable official collectibles!

Perfectly replicating their original arcade cabinet counterparts, these ¼ scale cabs include the original arcade ROM, authentic buttons and joysticks, internal rechargeable batteries, and real wooden shell and metal details, making them the most precise replicas on the market.
 
Whether you grew up with these games or are experiencing them for the first time, these classics are amazing gifts for parents, kids, and anyone else!
 
PAC-MAN, Galaga, Ms. PAC-MAN, and Galaxian will be available for Christmas (more coming in 2020).
 
On sale now worldwide at Geek Store, Amazon, and local retailers
RRP: £129.99 (UK) / €149.99 (EU) / $149.99 (US); PAC-MAN prices may vary.

Numskull
Gift Packs – themed gift sets for fans
These officially licensed gift packs are perfect for fans of PlayStation, Xbox, Harry Potter, Avengers, and Star Wars! Each pack includes a themed notebook, pen, pair of socks, spinner keychain, and set of 4 coasters.
 
On sale now worldwide at Geek Store, Amazon, and local retailers
RRP: £19.99 (UK) / €19.99 (EU) / $19.99 (US)

Numskull
Star Wars – celebrate the new movie with these collectibles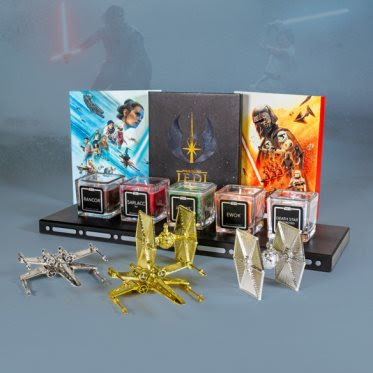 Alongside our aforementioned Xmas sweaters and gift packs is a whole host of official Star Wars merchandise!

Decorate your home with the official Star Wars Christmas decoration sets, customise your coat or bag with the official Star Wars pin badge sets, or even scent up your home with the collector's sets of Star Wars unique & strange scented candles, based on each of the original trilogy movies.
 
On sale now worldwide at Geek Store, Amazon, and local retailers (RRP varies)

Numskull