Looking for a super small speaker with super great sound (and a cool gimmick or two)? Then you'll want to check out the wireless Mo from Pow.
POW
You might be familiar with POW, as they're an up and coming company with some impressive tech. Then again you might not be, since again, they're an up and coming company.
While not a household name yet though, POW is impressive. I first saw their wares at a tech show a few months back, and instantly liked what was on display. One item in particular caught my eye though, and that was the Mo.
A little speaker with some excellent sound, the Mo is an impressive addition to POW's lineup. Let's see why.
Ease of setup
The Mo works off of bluetooth exclusively, meaning it has no stereo 'in'. Depending on whether or not that's your preferred method of connection, that could or could not be a knock.
It isn't really from where I sit, since everything that I play music off of uses bluetooth. So it's not a big deal. It's also just as easy to connect as anything else that makes use of the technology.
All you need to do is power up the unit, then hold the bluetooth button for a few seconds. The Mo then enters connectivity mode and is discoverable. Just find it on your device, and away you go.
Before you do that though, there's a very important step. You have to pop-up the little speaker. Pulling up one side then the other (don't do both at once), the Mo rises into its actual form (its…. final form?).
More than just aesthetic, the change creates a "wavebloom'. That's a technology that creates an air pocket that the speaker utilizes to make fuller, bassier sound.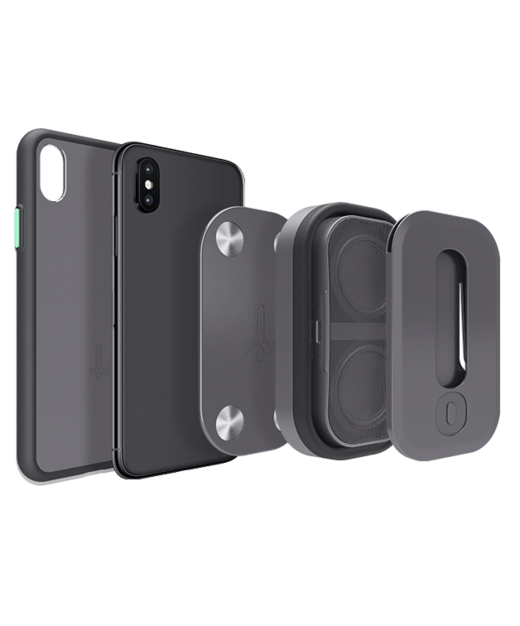 Utility
The Mo's main selling point is its portability. It's extremely small when in compacted form, and can easily be slipped into an outer backpack or briefcase pouch, or even a large jacket pocket.
When fully engaged, it's also pretty small though, and won't take up much real estate wherever you decide to put it. That, by the way, includes mounting it on a fridge, locker, your phone, or really anything that's metallic.
That's due to the Mo being loaded with some decent magnetics. It can stick to lots of metallic surfaces, and you can expend that thanks to the included mount. There's even an optional case for your phone that allows for the functionality, if you want to have everything all-in-one.
Having magnets built-in might sound a little gimmicky, and it probably is. But it's also pretty slick, and gives the Mo a lot of flexibility as to where it can go and how you can use it.
Also worth a mention (and kind of off the wall) is that the Mo also comes with a wallet. It's a small slide wallet that allows you to add a bit of cash and cards, and it works with the Mo's magnetic system to adhere to the speaker or a metal surface.
Proficiency
POW says that wavebloom delivers big volume for this small speaker, while still keep the portability of the Mo at a maximum. I have a hard time arguing with any of that.
I used the Mo extensively, including over the just concluded Halloween holiday to provide spooky sounds to the front of my home. The effect was terrific, with solid coverage well out into the street. It was so good that a few people actually commented on it.
Not just loud, the quality is nice and clear too. Though I will say that I didn't really get a ton of bass out of it. It wasn't like the music had no oomph, but there wasn't a notable effect. Nothing that knocked my socks off.
That's a little bit disappointing since Pow actually makes specific mention of the Mo's bass, though it's not like they make it a selling point either. And again, it's tough to knock this thing's sound quality overall.
Overall
As you can see, the Mo has a lot of upside. No, it's not perfect and does lack in some ways. But the Mo is also a great little speaker that can blast some quality sounds.
A sample was provided by POW for this review
Mo expandable wireless speaker
Release date: Available now
Manufacturer: POW Audio
MSRP: $79.99 USD
Ease of setup - 92%
Utility - 87%
Proficiency - 85%
The Mo from POW Audio is a flat-out terrific little speaker. Not only does it deliver on the promise of great sound from a small device, but it's surprisingly loud. It's surprisingly portable too, thanks to its small form-factor (when collapsed) and can go tons of places since its magnetic. An all around handy-dandy little tune-delivery system.