Super7 is planning a big SDCC, with tons of new reveals and a slick lineup of exclusives. Among them is a special box set of ReAction Ninja Turtles.
Cowabunga
Over 100 new toy and "collectible lifestyle" reveals are set for SDCC in San Diego next week according to Super7. The toy maker has come into its own in the last few years, with some incredible licenses and a popular series' of niche collector lines.
ReAction is one of those, and expands at Comic Con with none other than the Teenage Mutant Ninja Turtles. This is a fresh IP for the ReAction line, and it's not too clear if it'll be continuing into the future, or if this is a one-off convention exclusive. My money is on the former. These sculpts are too cool not to be used again in a wider, less awesomely-packaged release.
All of the below can be found at the Super7 booth on the show floor, which is set to be number 2543. That'll be a new location for the company, which is now across from the vast (and traditionally empty) Marvel booth.
Here's what's on the way for the Con:
Teenage Mutant Ninja Turtles ReAction Figures Pizza Power Four-Pack & Pizza Box

Cowabunga! The Teenage Mutant Ninja Turtles ReAction Figures are here! Fresh from the oven for their debut at San Diego Comic-Con, the steaming-hot halfshell heroes are stealthily stashed with their favorite food – Pizza! The fabulous four TMNT ReAction Figures are reimagined as authentically detailed 3 ¾" action figures, blister-packaged with accessories on pizza-slice shaped cardbacks featuring some of the Turtles' favorite pizza toppings, inside a genuine pizza delivery box. Each four-pack set includes:

Leonardo with Katanas and Pizza Slice accessory
Raphael with Sai and Pizza Slice Accessory
Donatello with Bo Staff and Pizza Slice Accessory
Michaelangelo with Nunchucks and Pizza Slice Accessory

Pizza Delivery Box with cut-out Ninja Costume and accessories
The Teenage Mutant Ninja Turtles ReAction Figures Pizza Power Four-Pack is available only from Super7 at San Diego Comic-Con
$75 per set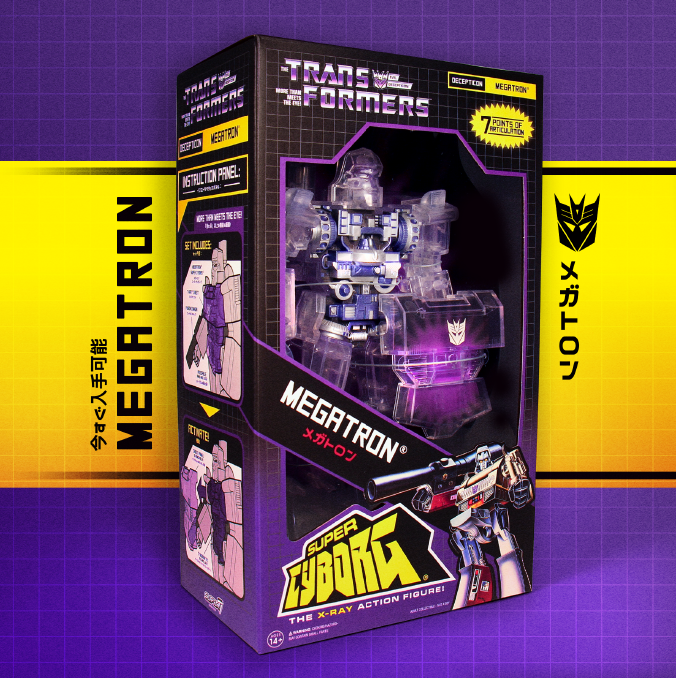 Super Cyborg Megatron –

The Transformers Super Cyborg Megatron launches his villainous campaign of peace through tyranny at SDCC 2019! The evil leader of the Decepticons is a Generation One Cartoon-Accurate 12″ poseable action figure with fusion cannon and removable chest plate, showcasing his robotic innards. The debut X-Ray edition Super Cyborg Megatron is cast in crystal clear plastic with painted inner torso, and packaged in a deluxe window box.
SDCC Exclusive
$75 each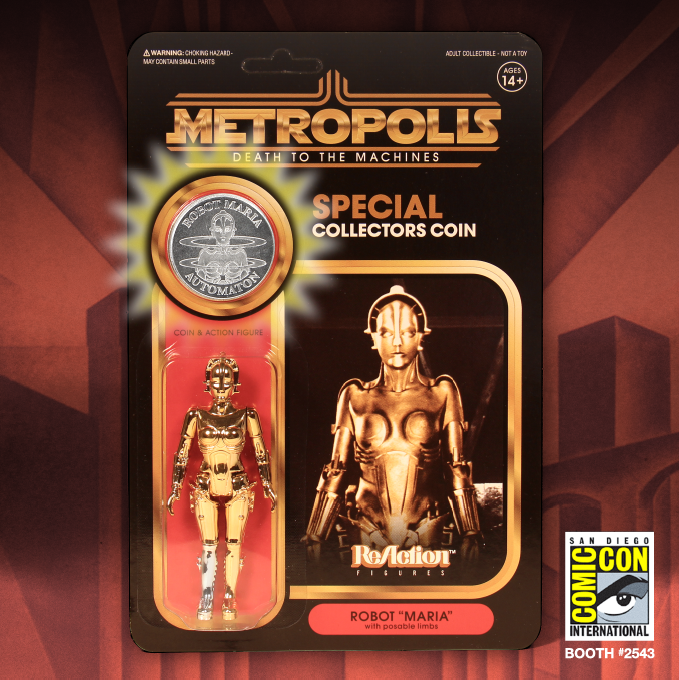 Other must have items include:

ReAction Metropolis Maria– 3.75″ ReAction Figure from the classic silent film. Maria comes with a vac-metal finish and collectible coin. $15 each.
Toxic Crusaders Keshi– The Hideously Deformed Creatures of Superhuman Size and Strength are back as pocket-sized polluted pals! Each Toxic Crusaders Keshi 3-pack features three 1.75″ figure, including one secret figure per pack! $6 per pack.