Crash Team Racing is back, hitting modern consoles last month. Numskull has fans covered with a range of merch, like this oddly-shaped mug.
Drinks on Crash
Crash Team Racing Nitro-Fueled debuted last month with a solid response, including our positive review. But when you think of the racing remake, you probably don't think of a mug.
Nonetheless, that's what we have here, a mug from the merch-kings at Numskull. Two things about this one – it's surprisingly cool, and it's probable best used for things other than drinking.
Build quality
Solid. This is a hefty mug that doesn't seem like it would break through average use. By that of course, I mean drinking and hand-washing, since that's what you'll have to do.
Though there isn't anything written on the mug itself, Numskull's website clearly says that this bad boy needs hand-washing only – no machines. That's very typical for collector-styled, unique looking mugs. So it should come as no surprise.
I'd also recommend never using it in the microwave, since it's probably going to get extremely hot. That's not mentioned by the way, just my personal recommendation.
Aesthetic
There's no getting around how cool looking this mug is. It's crafted to look like a wumpa fruit crate from Crash's games, and that's what you get.
The graphics on the sides are fairly high quality, with easily identified wumpas. The mug itself has some excellent sculpted elements too. The "bolts" at the corners look great, for example. In that same vein though, I really would have liked sculpted wumpa fruit bulging out between the bars. I know that's not exactly the look of the in-game item, but it would have been neat.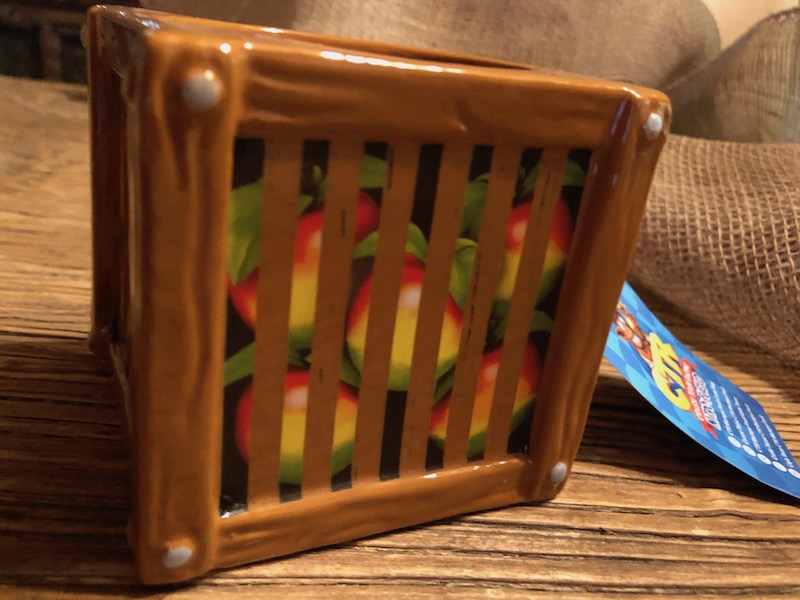 It's not exactly going to blow you away, but the whole thing conveys the wooden feel of the in-game crate well.
Extras
Well, this is a mug. There are no 'extras' really. Though I will add that there are certainly secondary uses for it. And actually, that's what I'm doing with mine.
While it's a perfectly fine drinking mug, it's a little unwieldy since it's square (and cavernous). So if you get one, you might alternatively want to use it as a pen/pencil cup, a display next to some Crash collectibles, or just a neat addition to ye olde gaming shelf.
I actually have mine on my desktop, next to one of NECA's Crash figures and a Funko Pop! Aku Aku. And honestly I'm pretty happy with that.
Overall
Numskull keeps on rolling. I have a hard time finding any fault with the wumpa fruit mug. Yes, you can drink out of it, but it is also an excellent addition to any Crash fan's display.
Crash Team Racing wumpa fruit mug
Release date: Available now
Manufacturer: Numskull