If you love Marvel's Incredi- I mean Immortal Hulk, you're going to want to have a lot at what Kotobukiya has cooked up for it's latest ARTFX statue.
The Immortal one
I have to admit that I'm a little out of the loop one Hulk. The latest run, called Immortal Hulk, is getting acclaim from critics and fans, but I haven't been following it.
That's not that it doesn't look good though. The new book is loaded up with classic Bruce Banner/Hulk action, but dialed way up. Hulk is more savage now, but he also seems to be more intelligent. And the new series looks incredibly (pardon the pun) dark as well. That's a welcome twist given Marvel's generally lighter fare these days.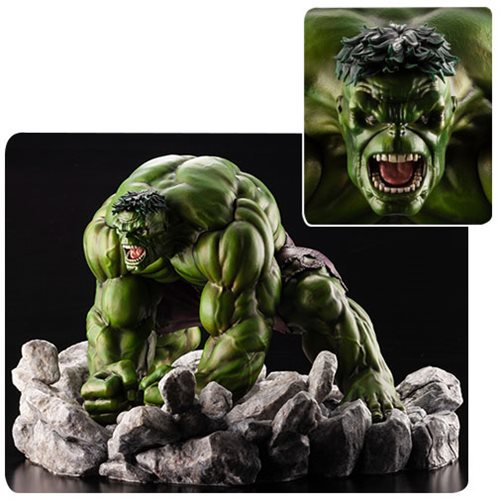 If you're a fan though, you might want to take a peek at the new piece that's joining the ARTFX line from Kotobukiya. The statue-maker has been getting deep into the superhero sphere over the last few years, and they're set to make an impact with this one.
The highly-detailed statue is 7 & 1/2 inches tall, and features the Immortal Hulk smashing the base to bits. It looks like it'd be a great addition to any Hulk fan's desktop.
Immortal Hulk is also fairly limited in scope. He's got a run of 3500 pieces, which isn't a super small run, but isn't monstrous either.
Check him out in full, or pre-order one for yourself, right here on Entertainment Earth. Immortal Hulk is set to ship out this November.