Marvel might be teasing a Carnage-centric event-book with an image released today. This August, Everyone is a Target.
Secret of the ooze
In the true Marvel manner of teasing events, we have Everyone is a Target. It's nearly impossible to tell anything from the teaser image released of course. It's likely even, that "Everyone is a Target" isn't the name at all for what looks to be a Venom and Carnage event.
Not that Spider-Man isn't involved either. And for that matter, a bunch of other Marvel staples. In the imagery from artist Greg Land, we have Marvel superheroes Spider-Man, The Thing, Hawkeye, and Captains America and Marvel. They're all being drowned in what looks like Carnage's symbiote.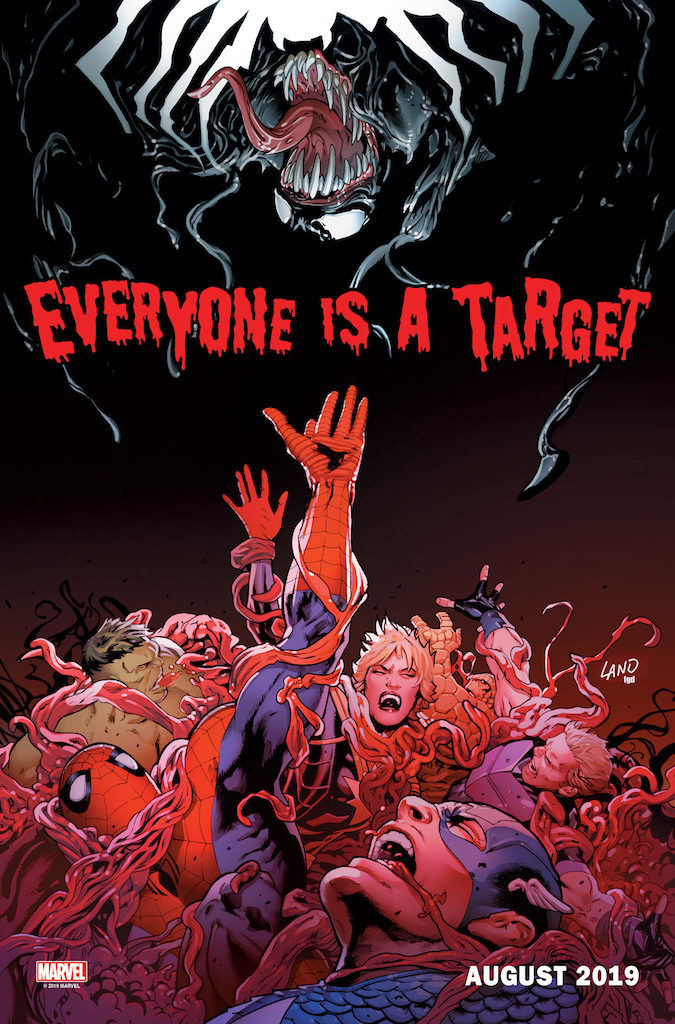 That'd play nicely into a Carnage story that's playing out now. If you don't know what I'm talking about, the villain is assembling a cult. It includes the Doppleganger Spider-Man from Maximum Carnage and is seemingly possessed by extensions of Carnage himself. See the similarities? Could the title of everyone being a "Target" be referring to that same cult?
Hovering above all of the mayhem in that image is Venom, who's way more of a hero than villain right now. Is he the key to the event? Will he be the main hero? It'd kind of fit since he'd be relatively unaffected by Carnage's symbiote. Though, if Marvel is heading in that direction, this might be more of a Venom "event" than a company-wide one.
We'll find out the answers to those questions and presumably a bunch more this coming August.