DC is loading up on some cool stuff for 2019. That includes a little bit of everything that the company offers, with statues, figures, and even a baby… Darkseid.
Cool stuff incoming
Already announcing releases for deep into 2019 is DC Collectibles, who've got a very nice selection in the offing. Some of what's on the way (like the cowls) you've seen already, though most of this is new I think. There's some stuff worth getting excited about here too.
Chiefly, the Batman: Black & White PVC box set, which should be great for collectors who've missed this line, and an awesome looking Wonder Woman piece from the Rebirth era. That stuff aside though, there's something else that's got my interest – the stands.
I know you might think that's the most dull portion of this day's announcements, but these look like high-quality stands that should be able to fit most action figures. That something worth getting excited about if you're an action figure collector and like to create dynamic displays. Flying or leaping characters aren't the easiest to figure in in cool ways, and stands that actually look good are not sold widely. These could fit the bill nicely.
Keep scrolling, the full listing of what's on the way is below.
Dark Nights: Metal Batman and Darkseid Baby statue
Rocking into our world from the pages of DARK NIGHTS: METAL is DC's most powerful Super-Villain. In the twisting, nightmare-and-rock-and-roll-infused plot of METAL, Scott Snyder has the Dark Knight capture the newborn Darkseid to shoot himself back through time.
Based on art by Greg Capullo
Sculpted by Neobauhaus
Includes Interchangeable head and removable Darkseid baby
Limited to 5,000 pieces
Size: 6.1'' tall
MSRP: $85.00
On sale July 2019
Batman Black & White Batman statue by Kenneth Rocafort
Bruce Wayne chose the bat as his symbol because it frightened him, and he wanted criminals to share his fears. Fear can translate as intimidation, or in the case of this Batman Black & White statue by artist Kenneth Rocafort, it can become nightmarish fright. This statue incorporates demonic and otherworldly elements, including a serrated cape, skeletal feet and a vampiric bat symbol, and will stand out on any shelf or collection.
Sculpted by Paul Harding
Limited to 5,000 pieces
Size: 8.77'' tall
MSRP: $80.00
On sale July 2019
Batman Black & White Mini PVC Figure 7-Pack Box Set One

DC Collectibles' iconic BATMAN BLACK & WHITE statue series has captured the hearts of collectors and comics fans alike with its interpretations of the World's Greatest Detective and Gotham City characters from the industry's most celebrated artists. Starting in 2019, DC Collectibles is creating an all-new offshoot of the beloved black-and-white collectibles, this time in 3.75″ tall PVC figures. Released in box sets of seven, each set will feature resized statues from some of the most popular designs in the line's history. The first set releasing in May 2019 features art by Amanda Conner, Darwyn Cooke, Jason Fabok, Patrick Gleason, Frank Quitely, Dick Sprang and Jim Lee.
MSRP: $35.00
On sale May 2019
DC Designer Series: Wonder Woman statue by Jenny Frison
This DC DESIGNER SERIES statue is based on the celebrated Jenny Frison-illustrated cover from the Rebirth era of the WONDER WOMAN comics series. The design takes Frison's vision and expands it into three dimensions for a stunning and highly detailed showpiece. Cast in polyresin, the statue captures a Wonder Woman who is prepared for battle, armed with her shield, an Amazonian spear and the Lasso of Truth on her hip.
Based on art by Jenny Frison
Sculpted by Jack Mathews
Limited to 5,000 pieces
Measures 15.5'' tall
MSRP: $150.00
On sale July 2019
Batman Family: Robin Multi-Part statue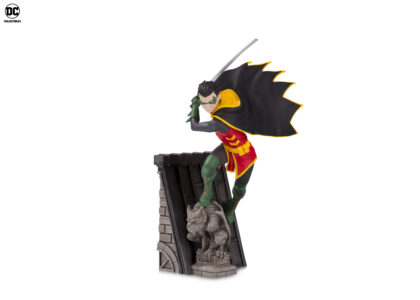 Following the success of the Teen Titans multi-part statue, DC Collectibles is back with a new line of combinable statues, this time featuring the Bat-Family! This new set features five statues that can be posed individually or combined into a massive showpiece. The latest release of the Bat-Family is the Boy Wonder himself—Robin! Perched upon a gargoyle with a sword at the ready and a smile on his face, this Robin is ready for action. Carefully sculpted in polyresin, this statue will stand out on its own or as part of the Bat-Family when connected with the other statues of the collection.
Sculpted by Chris Dahlberg
Limited to 5,000 pieces
Measures 5.71'' tall
MSRP: $80.00
On sale July 2019
Deluxe Action Figure Base Two-Pack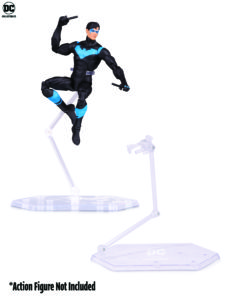 Complete with a three-point arm, a spring-loaded grip and peg holes, these deluxe action figure bases allow great freedom and flexibility for displaying your favorite DC Collectibles figures. The arm reaches up to 8'' tall; the base is 6.5'' by 3.5''. Sold in packs of two.
MSRP: $10.00
On sale March 2019
DC Gallery: Batman: Arkham Asylum Batman Cowl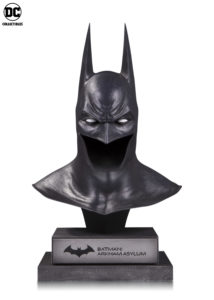 The DC Gallery collection presents some of the most iconic accessories, costumes and art as seen in the DC universe. In 2019, DC Collectibles is launching a collection of Batman cowls, each representing a beloved rendition of the Dark Knight's headgear from comics, videogames and more. In July, DC Collectibles will release a Batcowl based on Batman's costume in the acclaimed Batman: Arkham Asylum videogame produced by Warner Bros. Interactive Entertainment and Rocksteady Studios. Standing 11.29'' tall, this 1:2 scale polyresin sculpture makes a great addition to any home, office or Bat(man) cave.
Limited to 5,000 pieces
MSRP: $90.00
On sale July 2019
DC Artists Alley Wonder Woman, Hawkgirl, Supergirl and Batgirl by Chrissie Zullo
Created with a dreamlike, whimsical aesthetic, Chrissie Zullo's transformations of Wonder Woman, Hawkgirl, Supergirl and Batgirl embody the artist's unique and joyful art style
Sculpted by Irene Matar
Size: 7'' tall
Limited to 3,000 pieces
MSRP: $60.00 each
On sale July 2019
Black and White Variants: