The world of Dungeons & Dragons returns to comics with IDW's newest mini-series. A Darkened Wish hits stands early next year.
Darkness falls
In A Darkened Wish, years of hard-fought peace in the Sea of Swords are rent asunder, and legendary heroes must return to the region to defeat an unconceivable foe! Join Helene, a young wizard from the streets of Mintarn, and her friends as they grow from raw recruits to battle-honed warriors.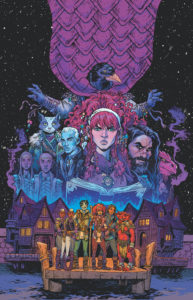 Sounds like some fairly classic D&D stuff there, in what's the latest comic book adaptation of the long running tabletop RPG series. IDW has had the license for a little while now, though this will be the first crafted by B. Dave Walters.
Walters is an admitted lover of the Realms, and can't wait to get adventuring. For that matter, neither can series artist Tess Fowler. With a pair of fans on board as the creative team, D&D aficionados could be in for a treat when the new mini goes on sale this coming February.
B. Dave Walters says, "I've been adventuring in the Forgotten Realms for a long time and having the honor of contributing to that world is incredibly exciting. I can't wait to show the fans the power and intensity of a truly epic D&D story!"

"I have dreamed of making Dungeons & Dragons comics since I was twelve years old, but A Darkened Wish is beyond anything I could have hoped for," says Tess Fowler. "Working with B. Dave Walters on this project is the coolest."