Big game season is finally, undeniably here. October of 2018 holds triple-a blockbusters aplenty, like Assassin's Creed Odyssey, Red Dead Redemption 2, Forza 4 and loads more.
Big time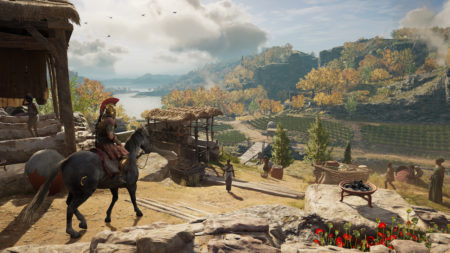 This has actually been a good year in general for game releases. We've seen lots of good titles arrive, even hitting retail in months that don't normally have them. The upcoming season has also been ramping up for a few months now. Both August and September were solid, after all. Buy even with all that, October is something else.
We start off with games like Assassin's Creed Odyssey, hitting this Friday, and then roll for the next four weeks. Call of Duty: Black Ops 4, LEGO DC Super Villains, Soul Calibur VI, Starlink, and a plethora of additional excellent-looking games are all on the way in this spookiest month on the calendar.
Scroll on down for the full listing, and make your plans accordingly.

10/02
Mega Man 11 – Xbox One, PS4, Switch, PC
Forza 4 – Xbox One
Fist of the North Star – PS4
10/05
Assassin's Creed Odyssey – Xbox One, PS4, PC
Super Mario Party – Switch
10/09
WWE 2k19 – Xbox One, PS4, PC
Space Hulk Tactics – PS4, PC, Xbox One
Disgaea 1 Complete – PS4, Switch

10/12
Call of Duty: Black Ops 4 – Xbox One, PS4, PC
10/16
NBA 2K Playgrounds 2 – Xbox One, PS4, Switch
LEGO DC Super Villains – Xbox One, PS4, Switch, PC
Starlink: Battle for Atlas – PS4, Xbox One, Switch
10/19
Dark Souls Trilogy – Xbox One, PS4
Soul Calibur VI – Xbox One, PS4, PC
Dark Souls Remastered – Switch
Luigi's Mansion – 3DS
10/23
Just Dance 2019 – Xbox One, PS4, Switch
10/26
Red Dead Redemption 2 – Xbox One, PS4
Bendy and the Ink Machine – Xbox One, PS4
10/30
LEGO Harry Potter Collection – Xbox One, PS4, Switch
Call of Cthulhu – Xbox One, PS4
Mutant Football League Dynasty Edition – Xbox One, PS4, Switch