The Joes are going south of the border again. This time the team will be going to Sierra Muerte, in a retro-inspired mission from Michael Fiffe.
YO JOE!
In G.I. Joe: Sierra Muerte, a core team of classic heroes goes rogue on a hunt-and-rescue double mission. With everyone trying to thwart Cobra Commander – even Cobra itself – and with Storm Shadow going AWOL, a pack of America's fighting elite risks life, love, and honor in this fast paced, one-stop-shop adventure.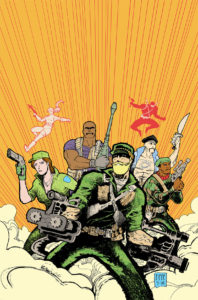 This one has pretty much everything that fans should be looking for from a Joe book. For starters, it takes place in decades past, with the original Joe team, and seemingly in continuity. Honestly too, you can't look at that team and not smile. Snake Eyes, Roadblock, Scarlett, Gung Ho… come on, that's an awesome lineup.
On top of that too, it seems as though indie creator Fiffe is a fan of the Joes.
And I don't mean that in an ironic way. It actually sounds like he's a fan. That's a good thing, since he's going to be up to his neck in GI Joe for the whole run of this mini. He's not only writing the book, he's also penciling it, lettering it, and coloring it.
"The opportunity to put my own spin on this iconic franchise was impossible to resist," says Michel Fiffe. "I wanted to take all of my favorite players and give them a chance to shine in their own unique ways. By creating the entire package, I tap into the personalized core of this classic cast. Love and loss, combat and cunning, cheap laughs and high stakes – this is everything I want in a G.I. Joe comic."

"It is a true honor to be working with Michel Fiffe, one of the industry's most unique and talented voices, on this project," says IDW Associate Publisher David Hedgecock. "Michel's love and passion for classic G.I. Joe shines through with every new page he turns in."
The first issue of GI Joe: Sierra Muerte lands on the racks this Spring.