Are Matt Murdock's last days here? It sure looks like they might be, as Marvel Comics is teasing The Death of Daredevil for November's DD #611.
Deal with the Devil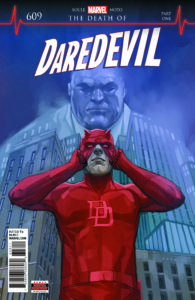 We first told you about this very story earlier this week, but this new press release has things looking much more official. And it certainly does seem like Daredevil is about to sling his last billy club in the Marvel Universe. Well, for now anyway.
Today Marvel announced that the man who killed Wolverine (and then brought him back) writer Charles Soule will be heading up this massive arc. The stories will be a four-part tale, taking place in Daredevil #'s 609 through 612, which comes out in November.
Here's the official text:
Charles Soule's long-running tenure on DAREDEVIL is coming to an end…and he is not leaving Matt Murdock in a good place.

Is this THE END for Daredevil?

This October, Charles Soule and Phil Noto will kick off Matt Murdock's darkest chapter yet – one which will lead to a chilling and surprising finale in November's DAREDEVIL #612, that no reader will want to miss!
That seems like ridiculously short notice for a story that's potentially this big, but there it is. Though, from Soule's commentary in the video posted below, it kind of sounds like this might not be what it seems. It's not that he doesn't hype it, because he does a pretty good job of that. But there's something in this "trailer" that has me thinking that we definitely won't have seen the last of old horn-head come this December.