What's more Christmasy than a wild barbarian, slaughtering her way across the Hyborian realm? To Red Sonja, probably not much.
There's going to be a lot of red. And green I guess
"Red Sonja is one of our first titles a cornerstone character of Dynamite Entertainment's publishing line the Red Goddess is long overdue for a holiday special.  This story has a lot of heartfelt emotion," said Nick Barrucci, CEO and Publisher of Dynamite Entertainment. "After watching their work on the ongoing Red Sonja series, it was clear that Amy and Erik were the perfect pair to write this book."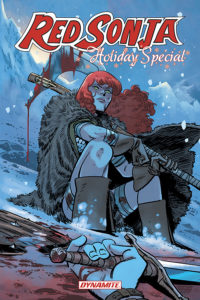 Barrucci is of course talking about Amy Chu and Erik Burnham there, the creative team on this one-shot special. Both have had experience with Sonja though, so you might know both from the warrior's previous adventures. Not that those were probably anything like what's on tap here.
Red Sonja comes from a world that has no concept of the holidays that we celebrate today. And that includes the big guy in the red suit. So I don't know how this synopsis makes sense. Yet here we are, and I'll be damned if this doesn't sound like plenty of fun.
Featuring cover artwork by the talented Leonardo Romero (Hawkeye) and interior art by Ricardo Jaime (The Shadow) Red Sonja reminisces about the time she and Sir Max rescued a drunk Santa from the Grinch (Kulan Gath of course!) and learns the true meaning of Christmas.
Red Sonja Holiday Special hits stands on December 5th.