Fresh statues and figures are in stores as of last week from DST. Superman, Deadpool, and a cool wave of Nightmare Before Christmas figures are all available.
New figures and statues
There's a really neat selection of stuff hitting this week, including a very cool new Superman statue/diorama. Part of what makes this guy so great too, is the price. DST has produced a great looking piece, complete with translucent effects, and is only charging $45 USD for it. Great stuff.
The Nightmare Before Christmas stuff is also a real highlight. These are the select figures, and it's a great wave of them with almost all of the heavy-hitters from the movie. It's also the 25th anniversary, so it's timely too.
Here's what's out:
DC Comic Gallery Superman PVC DioramaHave you started your Gallery? The popular line of PVC Dioramas from Diamond Select Toys expands into the world of DC Comics, starting with this superior sculpt of the Man of Steel! Sculpted in a 9″ scale, this approximately 9″ statue of Superman features detailed sculpting and paint, and comes packaged in a full-color window box. Designed by Shawn Knapp. Sculpted by Joe Menna. (Item#APR182181, SRP: $45.00)

https://shop.diamondselecttoys.com/dc-comic-gallery-superman-pvc-diorama
Marvel Comic Gallery Taco Truck Deadpool PVC Diorama
Deadpool returns to the Marvel Gallery line in style! Unfortunately, his ride got trashed along the way, and Deadpool is posed atop a destroyed taco truck base, sporting bunny slippers and wielding twin finger guns with the safeties off! This all-new sculpt spotlighting the softer side of Deadpool stands approximately 10 inches tall and is made of high-quality PVC with collectible-quality paint applications. Packaged in a full-color window box. Designed by Caesar, sculpted by Cortes Studios! (Item #MAR182429, SRP: $45.00)https://shop.diamondselecttoys.com/marvel-gallery-deadpool-taco-truck-pvc-figure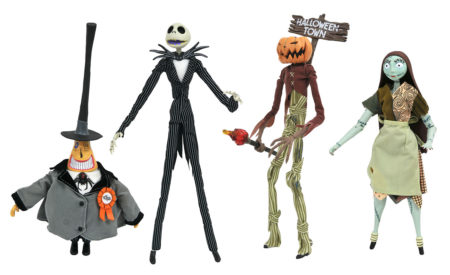 Nightmare Before Christmas Silver Anniversary Deluxe Action Figures
A Diamond Select Toys release! Tim Burton's The Nightmare Before Christmas is turning 25 this year, and Diamond Select Toys is celebrating with a new line of cloth-costumed, fully poseable action figures! Measuring approximately 10 inches tall, each figure features real fabric outfits, multiple points of articulation and character-specific accessories. Jack comes with a podium, the Mayor comes with a telescope, Pumpkin King Jack comes with a sign and torch, and Sally comes with her oven and cauldron! Each figure comes packaged in a coffin-shaped window box.Jack Skellington (Item #MAR182411, SRP: $50.00)
The Mayor (Item #MAR182412, SRP: $50.00)
Pumpkin King (Item #MAR182413, SRP: $50.00)
Sally (Item #MAR182414, SRP: $50.00)

https://shop.diamondselecttoys.com/nightmare-before-christmas-action-figures?pagenumber=2