A classic PC aRPG comes to the Nintendo Switch with a long-awaited port in Titan Quest Anniversary Edition. Better dust off your sandals.
Questing to consoles
Titan Quest, the original release, launched on the PC quite a few years ago at this point. Hitting in 2006, the action/RPG made something of a splash. One of the few games to feature an ancient Greek theme, Titan Quest had just the right mix of action, strategy, and -of course- loot.
Much like the classic Diablo series as well as Torchlight, Titan Quest was loot-filled. Sorting through the bounty of swords, armor and more was one of the coolest parts of the game. Actually, no matter how many games I see that element in, it's still fun. It had some sharp graphics as well, and a cool stable of foes to vanquish, all based of course on mythology.
After a long drought, Titan Quest was updated into the Anniversary Edition. Hitting PC first, the game then transitioned to the Xbox One and the PS4, before finally appearing on the Switch this summer.
So did they save the best version for last? Let's have a peek.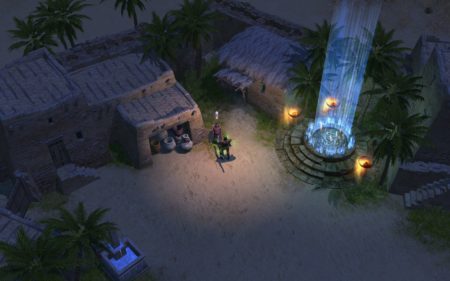 A quest of mythic proportions
As you might imagine, Titan Quest's main quest is one that's appropriately mythic. You're on a mission for the gods, one that'll set your character up against some of the most iconic monsters in the Greek world and even the Titans themselves. Though, that's not all.
You'll likewise run into some pretty standard beasts from role-playing lore, like giant spiders and such. Once you quest past Greece, you'll run into some creeps from a wider array of legend too. Titan Quest isn't all Olympian.
If you're looking for a massive adventure for your Switch, Titan Quest is it. The game has a tremendous scope, and again has several different lands to explore and fight through. There's also the Immortal Throne expansion pack included.
With all of that, plus loads of side-quests, you can imagine just how deep this game is. And also how long it will take you to battle through.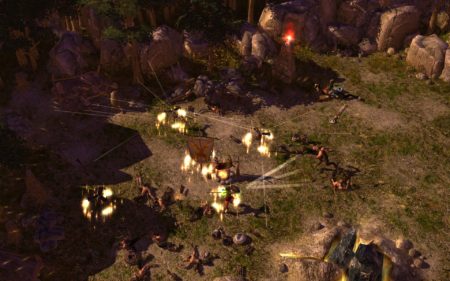 Fortunately, most of it is plenty of fun. Most of it.
With a game like Titan Quest, you're going to find some parts will drag. You'll adventure your way through areas that are filled with many of the same monsters over and over again. Believe me, you're going to get tired of seeing Satyrs.
Not that the cloven baddies are all you'll fight, as there are actually a great selection of foes that range from giants to the undead. It's just that the cannon-fodder level enemies are most definitely plentiful. To be fair, I find that to be true of pretty much all aRPGs though, even though it's a genre I love.
What really makes things stay interesting is usually the scenery. And with that, Titan Quest does pretty well. Not that it's all stellar, but the game has some really cool locations, that get better and better as you play. It keeps things feeling fresh… even though you've killed your thousandth Satyr.
Looks good, loot and all
For an older game ported to the Switch, Titan Quest looks damn good. It has been updated though, so that's not entirely unexpected. The game got a new coat of paint for this Anniversary Edition, and even though the graphics style does feel a little dated, it looks great across the boards.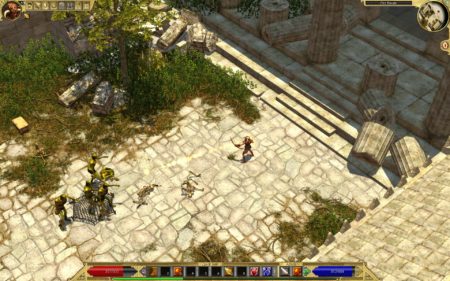 In the game, you'll find some varied locations too. Everything from idyllic (at one time anyway) towns in the countryside to cities are filled with NPCs for you to talk to and trade with. And once you venture out into the wilds, you'll find sprawling dungeons, creepy caverns, and plenty of wide-open spaces. There's a lot to like here, and as I mentioned, all of it keeps the game moving and makes sure you don't get bored.
And yes, there's loot
Oh my, is there loot. Swords, armor, and everything else you can imagine is pretty much everywhere. It's all equippable on the fly too, so no worries about having to get back to a town or "beating" a level first to wield something.
This is old school right here. You pick up a blade with better stats than what you have already? Select it and start smashing some skeletons. That's just the way I like it, and to me it's a mechanic that didn't need to be meddled with. Not that most games do, but I just came off of reviewing Inquisitor – Martyr. While that game's great and all, not being able to equip arms and armor as you find it is a serious drag.
Also worth noting, is that all of this stuff makes visible changes to your character. That's another nicety of the aRPG genre on the whole. It's kind of assumed I think, but I always love seeing it in action.
Controlling a Titan
Like everything else in Titan Quest, the controls here are fairly well done, though typical. If this was being played on a PC, you'd be clicking on everything, but since it's a console translation everything is controller-based. It might have been neat to have access to the touchscreen for controls while in handheld mode, but that's not the case.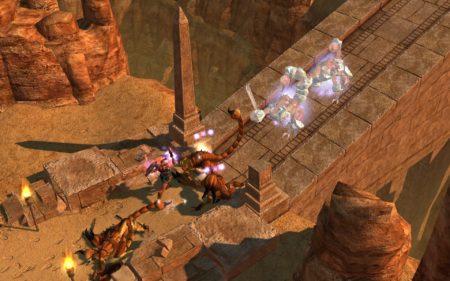 Fortunately, the controller is just fine and all of the various controls have been mapped well. Moving around and using items is easy as pie. There is one caveat though, and it comes with attacks. Yes, that's kind of a big deal, though not as much as you might immediately think.
The problem rears up when it comes to the auto-aim feature. It's great to have, but it tends to aim at the wrong enemy on occasion. I didn't notice it in every encounter, but when it happened it was incredibly frustrating. You can sort of override the mechanic, but it's aggravating nonetheless and overriding it takes you completely out of the moment of what should be a fun fight.
Final thoughts
So Titan Quest is not perfect. I doubt you thought it would be though, since it originally came out years ago. The new upgrades to graphics look great though, and it's tough not to like that "ancient world" aesthetic.
There's also so much to do in Titan Quest that it really is a great value- especially on Switch. Having an adventure this grand in portable form is nothing short of fantastic. Even with the upgrades, you could possibly find that Titan Quest is a little dated, but it's terrific fun that would not hesitate on recommending.
Copy provided by publisher for review
Titan Quest
Release Date: July 31st, 2018 (on Switch)
Platform(s): Nintendo Switch, Xbox One, PS4, PC
Publisher: THQ Nordic
Developer: Iron Lore
Titanic
Good graphics, nicely detailed and varied - 80%
Lots to do, a huge quest - 85%
Aiming issue aside, the controls are solid - 73%
Titan Quest is probably worth your time, and I'd go so far as to say that it definitely is if you're an old school aRPG fan. There's a long quest to be played through, plenty of side adventures to go on, and copious amounts of loot to gather. The graphics are good as well, with nice detail and some awesome locations to battle across. Unfortunately, the auto-aim is a little wonky, but it's not game-breaking. Overall, Titan Quest is a worth addition to the Switch pantheon of games.