Into the retro-cool, 60s aesthetic of We Happy Few? Then you're going to love what Dark Horse has in store with their latest art book.
Happiness is
We Happy Few has been a little controversial since it finally launched this month (in its finished form). Some love it, some don't, and for varying reasons. For the record, we're in the former camp, giving the game a score of 80%.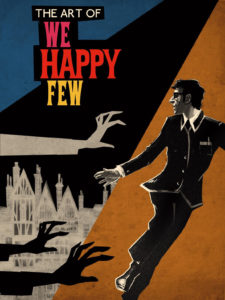 Whatever you think about the game though, I think the one things almost everyone can agree upon is that the art style is pretty neat. Based on a 60s motif, the whole game is soaked in the flower-power era.
The game is set in 1964 against the backdrop of an alternative timeline of events after World War II. The citizens of the fictional English city of Wellington Wells, to forget a Very Bad Thing they did, take a drug known as "Joy"—a delightful hallucinogenic antidote to their despair, with the mild side effect of making them easily controlled and morally malleable. But happiness isn't so easily found for everyone. The Downers — awful citizens who refuse to take their Joy — are a menace to society, and as such are hunted by the police. If only they knew what was best for them! Turning their frown upside down is just a trip away!
A hardcover tome, this one is set to clock in at 200 pages. The Art of We Happy Few will arrive in stores on November 13th, and run you $39.99 USD.