It's been a long time coming, but it looks like Valiant Comics' cadre of heroes will finally be getting some collector quality action figures.
High end hero
First on the list for Valiant and their new partner in toys, Phicen? Bloodshot. That's fitting, since the action hero has been one of the publisher's most popular characters, and will be on the receiving end of a motion picture from Sony.
Brought back from the dead and infused with cutting-edge nanotechnology, Bloodshot is a nearly unstoppable killing machine. His enhanced strength, speed, endurance, and healing made him the perfect weapon. After defying his programming and escaping his masters at Project Rising Spirit, Bloodshot now fights to rediscover the secret of his true identity…but remains haunted by the past that nearly destroyed him.

"We are extremely excited to partner with Phicen on a line of high-end collector Valiant action figures, starting with Bloodshot," said Russell Brown, Valiant President of Consumer Products, Promotions and Ad Sales. "Their superbly detailed, 1/6 scale action figures are some of the most sought-after in the world, so we are thrilled to be able to offer these to our fans."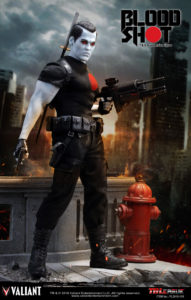 As you might imagine, this figure will be pulling out all the stops. Fully articulated with all the poseability you'd expect from a figure in this scale, Bloodshot will include a pile of cool accessories. And honestly, that base is above and beyond for even a collector figure, capturing a street corner for Ray to stand on.
Here's what's included:
Samurai sword and sheath with carrying strap
Three handguns with accompanying holsters and thigh strap
Assault rifle with underslung shotgun
Two pairs of interchangeable hands
Belt with two additional magazine pouch sets
T-shirt, pants, and boots
Naturalistic figure base and fire hydrant
The figure is available right now for pre-order from the bigger online collector outlets, including Phicen itself, and will run you $159.00 USD. There's a deadline here though, so if you do want one, order before July 23rd.
Expect him to start shipping out by the end of the summer.